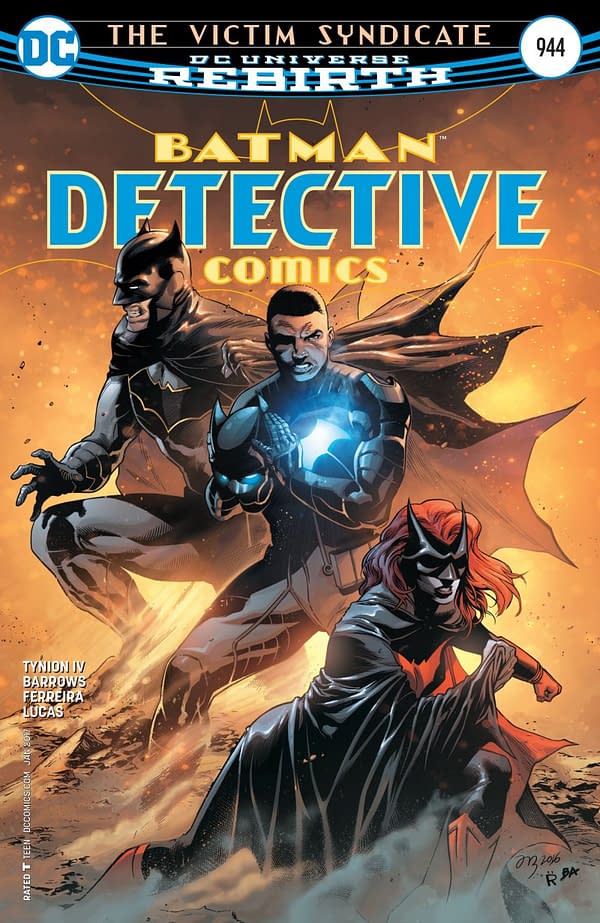 This is the Top Ten Bleeding Cool Bestseller List, as compiled by a number of comic stores from their sales on Wednesday and Thursday. It measures what are known as the "Wednesday Warriors", those who can't wait to the weekend to get this week's comics. We salute you, and the keenness you bring to your passion.
And yes, despite the news of Marvel's return to power, the bestseller charts still stubbornly refuse to reflect anything other than DC's dominance… though three do sneak in. Oh and Scott Snyder's protege James Tynion beats him on the Batsales front. The student has surpassed the master.
1. Detective Comics #944
2. All-Star Batman #4
3. Flash #10
4. Action Comics #967
5. Invincible Iron Man #1
6. Wonder Woman #10
7. Batman/TMNT Adventures #1
8. Black Panther: World Of Wakanda #1
9. Hal Jordan & the Green Lantern Corps #8
10. Clone Conspiracy #2
Thanks to the following retailers
Who had this to say
Don't let the October sales charts fool you, it's definitely still DC dominating the charts when it comes to actual sales to customers and our November orders are much more in line with actual sales than our October orders were. This week, only one Marvel book cracked our Top 10, and it was Clone Conspiracy in spot 10. Our store's first nine were all DC characters with Detective, All Star Batman, Batman/TMNT Adventures (with IDW), Flash, Mother Panic (strong debut outselling all Marvel in our store so far!), Action, Wonder Woman, Superwoman (really? still outselling all Marvel this week?!? definitely a big surprise in Rebirth), Hal Jordan and finally Clone Conspiracy, which hasn't really caught on near the numbers we expected.

We are seeing NO interest in Riri as Iron Man so far, and I think Marvel screwed up announcing all this four months ago. No one from outside of comics has that long an attention span and it is currently our 14th bestselling title so far this week, ouch. I am only ordering about a third of our orders for issue 1 for the second issue and even that might still be too high unless the next few days really bring some people in for it. Amazing Spider-Man Renew Your Vows is at spot 16 and Avengers 1.1 is at 18, so none of this week's Marvel new releases caught on in our store. I'm also shocked to be selling so little of Deadpool: Back In Black. Even though DP minis have slowed down, I figured including Venom would be a sure thing, but not so much. We sold almost as much Cannibal (spot 15) and James Bond Hammerhead (20) as we did these new Marvel launches. Marvel needs to do something to turn it around quickly.

Still selling a lot of Dr Strange back issues, although not much in the way of the newer series to more recent fans from the movie, but we've always seen the pattern for the last decade or so, that the less people that know about the comic before the movie, the more of it we sell. Sure enough, Dr Strange was a great movie, so it's helped us sell a decent amount of Dr Strange trades, back issues and even a bit of the recent stuff, just not as much as we expected.

Still moving lots of Walking Dead, especially 100 and issues around that area. Moving decent amounts of 1990s Batman and early 2000's X-Men and Uncanny.

Marvel can't get out of a death spiral, apparently: even their two big launches of the week (Spider-Man: Renew Your Vows and invincible Iron Man) failed to crack our store's top 10, coming in at 14 and 15 respectively. Poe Dameron took #12, coming in right behind another DC Rebirth book at 11, while Doom Patrol took 13th place in our store's Wednesday sales. It's time for some serious house-cleaning at Marvel–they really need to find someone who has a clue about what readers want to see.

Strong sales of 80s and early 90s DCs–Question, Superman, Batman, Justice League, and Flash in particular.

Retail variant for Batman/TMNT Adventures with rarest Harley Quinn cover ever produced= huge week,selling almost 4 times the amount of the next best issue sold for the week…which also happens to be another Batman book.All the Marvel books that started this week with new #1's did really well considering the lack of love lately from Marvel…might want to still put out a Boba Fett ongoing…just saying.

Same as last week…more Wolverine and more X-Men sold on the back-issue front.People want what the want and it is Mutants and not Inhumans…sorry!!!

Only two Marvel titles managed to make it into the top ten for us this week. Invincible Iron Man 1 and Star Wars Poe Dameron 8. Invincible still was beat by 6 DC titles even though five of those DC titles were not first issues. Black Panther World of Wakanda 1 did terrible sales wise. Didn't not even come close to cracking the top ten. Way over ordered. Meaning we lost money on that title. Same with Clone Conspiracy 2. After the previous two issues that tied into it people fled from the title. Dan Slott said it was going to be a big deal but readership isn't believing it now. Really need Marvel to correct the direction they are going. DC sells well and now Marvel is completely the opposite. I keep thinking Marvel has hit bottom sales wise but I keep getting proved wrong. Which means we are losing money with Marvel product. All Star Batman 4 still selling strong. Best selling book of the week. It is now outselling the main Batman title here.

Good sales for a smallish week. 50/50 split of BigTwo titles. Bat-books take the top two spots. Flash, Action, and Wonder Woman fill out #s 4, 5, and 6. Invincible Iron Man is Marvel's best performing book and our #3 seller of the week. Though, honestly, I expected better. As I did for World of Wakanda which did not make the list. Or even come close, really. It bums me out that Marvel's best selling titles this week will most likely end up as unread long box filler.

Doom Patrol, naturally, has been Young Animal's biggest success so far. #3 was just shy of making the top ten. Mother Panic did not fare nearly as well. Mosaic? Solo? I'm not exactly sure why these books exist.
While Superman and Action Comics have certainly done well since Rebirth, the extended SuperFamily titles have done very poorly. I can't really imagine long runs for New Super-Man or Superwoman.

DC dominance strikes back with one of last week's books (Batman #10) still on this week's top ten and beating out most of the new Marvel books. Since we didn't qualify for unlocking the variants for Marvel's Now Invincible Iron Man #1 it barley cracked the top ten for us. So Marvel needs to crank out tons of variants to take market share..Kinda of sad!
Enjoyed this article? Share it!