This is the Top Ten Bleeding Cool Bestseller List, as compiled by a number of comic stores from their sales on Wednesday and Thursday. It measures what are known as the "Wednesday Warriors", those who can't wait to the weekend to get this week's comics. We salute you, and the keenness you bring to your passion.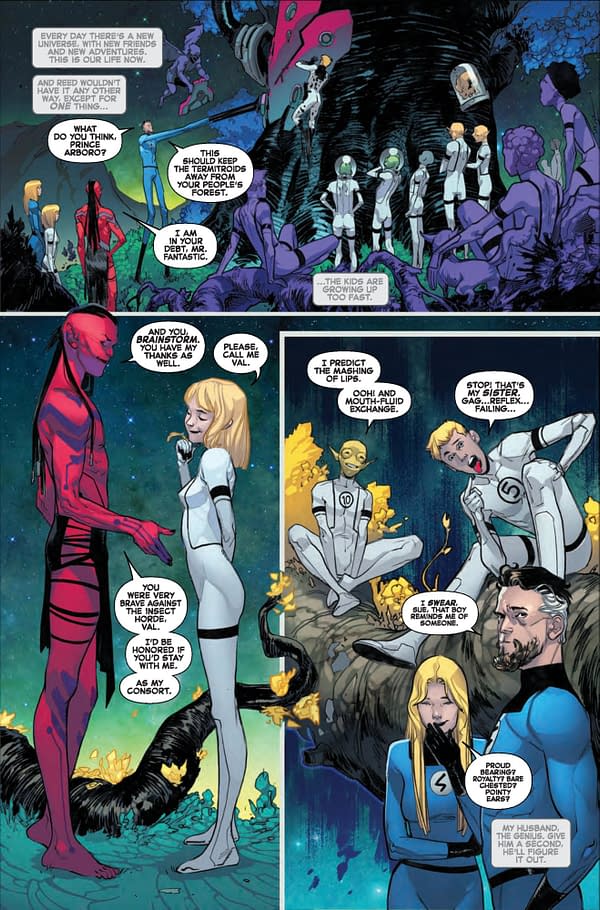 And Fantastic Four takes the top for a second month. Now with the added advantage of actually having the Fantastic Four together in it… Also strong appearances from Tempest, House Of Whispers and X-23
Top Ten Best-Sellers of the Week
Fantastic Four #2
Detective Comics #988
Amazing Spider-Man #5
Catwomen #3
Infinity Wars #3
Superman #3
Flash #54
League Of Extraordinary Gentlemen: Tempest #2
X-23 #6
House Of Whispers #1
Thanks to the following retailers
Who had this to say,
Fantastic Four is back on top at the #1 spot in our FFF Weekly Top Ten. Infinity Wars and Amazing Spider-Man also managed to outsell Bendis's Superman and Detective Comics. It's been a while since Batman hasn't been on top, but somehow Marvel has found a way to get people to care about their comics again. Mystery Science Theater 3000 sold well for its first week. It was definitely one of those books that had some people who have never been in our store stop in to pick up issue #1. Hopefully they come back for #2-4! To DC's credit, they're numbers have been consistent at our store and if a book sells well it will keep doing so for a while. Flash, for example, went through a lull where some readers dropped, but soon enough it gained a few either new or returning readers back. So while Marvel is on top for the moment, only time will tell if they can keep the readers like DC has been able to do.

—-

Detective Comics took the top spot. Amazing Spider-Man is holding well. Fantastic Four is diving in sales from the first issue. Catwoman 3 had a boost thanks to a certain Artgerm variant. If I had known people would have wanted the variant cover for Red Hood and the Outlaws it could have made it into the top ten this week.

—-

Fantastic Four was number 1 by a long shot. FF #2 sold twice as many copies as the number 2 book. Superman is doing well but not amazing. It was our number 3 book of the week, and our best selling DC book.

—-

Nothing really pulled ahead of the pack in terms of popularity this week. Three issues end up tying for bestseller, Fantastic Four #2, House of Whispers #1, and League of Extraordinary Gentlemen Tempest #2. Those are all pretty different from one another–so at the very least it was a diverse week?

—-

A nice, strong release week has given us a solid mix of Marvel and DC titles in our 10 best sellers. At the very top spot, we've got AMAZING SPIDER-MAN #5 tied with DETECTIVE COMICS #988. Newer series CATWOMAN and the FANTASTIC FOUR revival are both maintaining strong sales.

We've got a lot of the DC usual suspects scattered throughout the bottom half: SUPERMAN, WONDER WOMAN, and FLASH. Meanwhile, INFINITY WAR(S) continues to hold reader's interest with its various cosmic exploits.

—-

Six DC titles, four Marvel–but the surprise was how rapidly Superman dropped. Even with three covers, it failed to make our store's top five this week, and was only four copies away from not even making the Top Ten. Readers like Bendis's dialogue, but the complaint is that the story isn't going anywhere. Catwoman took #1 based on the stunning variant cover art; Fantastic Four was Marvel's best-selling title at fourth place.
Enjoyed this article? Share it!