Boom Studios had a lot to boast about at Diamond's Retail Summit, held in Las Vegas this weekend, including the stat that Boom had gained more market share than any other publisher in 2018, growing sales three times faster. Which is nice. You can follow the rest of Bleeding Cool's coverage of Diamond Retail Summit, far more than any other comics news site, right here.
They are also increasing their returnability programme – quite the theme for the weekend it seemed – by adding two original graphic novels, Hotel Dare and Plate Tectonics to their Guarantee Retailer Rewards Program. Snad stating that this is the first time that any American comics publisher has offered full returnability via affidavit on graphic novels. Which means that retaikers are trusted to destroy unsold copies and receive full credit for the cost, as they do with select single issues.
Talking of which, they stated that Kieron Gillen and Dan Mora's Once & Future King, previewed here pitting an ex-monster hunter and a museum curator against Nationalists using an ancient artifact to resurrect a villain from Arthurian myth — will have an extra-sized first issue, no variant covers, sliding discounts on #1, and full returnability on all 6 issues.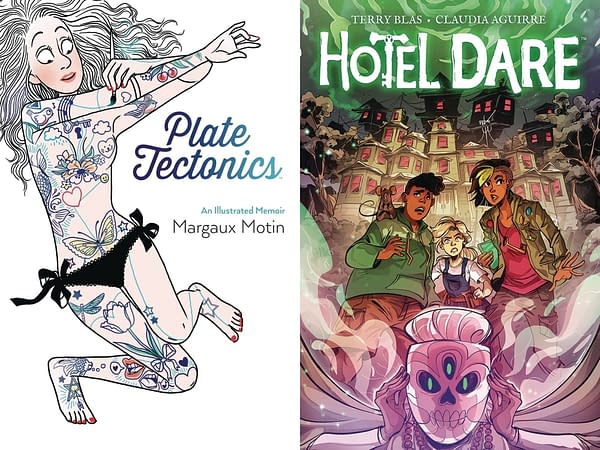 HOTEL DARE ORIGINAL GN
(W) Terry Blas (A/CA) Claudia Aguirre
OPEN THE DOOR. ADVENTURE AWAITS.
Olive and her adopted siblings, Charlotte and Darwin, are spending the summer with their estranged grandma at her creepy hotel, and it 's all work and no play. They're stuck inside doing boring chores until they stumble upon an incredible secret… behind each door of the hotel lies a portal to a strange and mysterious place.
The simple turn of a knob transports them to a distant magical world filled with space pirates. Behind the next door are bearded wizards. Down the hall is a doorway to a cotton-candied kingdom. But once the doors are open, worlds start colliding, and only one family can save them before the hotel tears itself apart.
Written by Terry Blas ( The Amazing World of Gumball) and illustrated by the talented Claudia Aguirre ( Kim & Kim ), this world-hopping fantasy tale breaks down the door to imagination and dares you to embrace the idea that family is everything.In Shops: Jun 05, 2019 SRP: $9.99

PLATE TECTONICS ILLUS MEMOIR ORIGINAL GN HC
(W) Margaux Motin (A/CA) Margaux Motin
At age thirty-five Margaux fs life is full of upheaval and unexpected twists and turns. She fs divorced, raising a child on her own, and trying to get back on her feet in today fs fast-paced world. When romance eventually returns, it takes on the most unexpected shape . . . in that of her best friend! Could things possibly get more complicated?!
Plate Tectonics: An Illustrated Memoir follows cartoonist Margaux Motin through one of the most transformative periods of her life as she navigates her own heartbreak and subsequent hope with unabashed wit and charm.In Shops: TBD SRP: $24.99
Enjoyed this article? Share it!