Want to Read Superman's Secret Identity Reveal Early? Go See Brian Bendis and Kelly Sue DeConnick's 55th Annual Nina Mae Kellogg Lecture at Portland State Tonight
The 55th Annual Nina Mae Kellogg Lecture at the Portland State English Department will today feature Brian Michael Bendis and Kelly Sue DeConnick in conversation. The Nina Mae Kellogg Lecture is one of Portland State's longest-running traditions. Past Kellogg Lecturers include Cheryl Strayed, George Saunders, Junot Díaz, Jamaica Kincaid, Elizabeth Bishop, and Ursula LeGuin, among many others.
Running tonight from 6:30 – 9 pm at the Smith Memorial Student Union, Room 327, the event is free and open to the public. Seating is first-come, first-served, so you may want to get there early. And if you do, feel free to let Bleeding Cool know how it all goes down.
Because Bendis has promised that anyone who asks a good enough question will get an advance copy of next week's Superman #18, with the big truth about Superman's Secret Identity reveal. However it plays out.///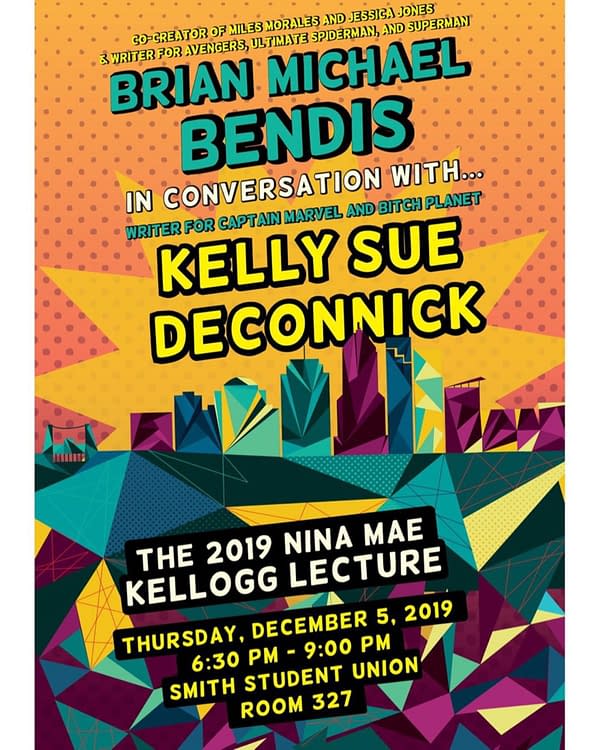 Brian Michael Bendis is an award-winning comics creator, Amazon and New York Times bestseller, and one of the most successful writers working in mainstream comics. For the last twenty years, Brian's books have consistently sat on top of the nationwide comic and graphic novel sales charts. Bendis's many achievements include the introduction of the multiracial Spider-Man, Miles Morales, and the creation of the character of Jessica Jones. Bendis has won five Eisner awards, including 'Best Writer of the year' two years in a row and was honored with the prestigious Inkpot award for comic art excellence.

Kelly Sue DeConnick is best known for surprise hits like Carol Danvers' re-branding as Captain Marvel and the Eisner-nominated mythological western, Pretty Deadly; the latter was co-created with artist Emma Ríos. DeConnick's most recent venture, the sci-fi kidney-punch called Bitch Planet, co-created with Valentine De Landro, launched to rave reviews in December 2014 and has since been nominated for an Eisner. DeConnick lives in Portland, Oregon with her husband, Matt Fraction, and their two children. Under their company Milkfed Criminal Masterminds, Inc., DeConnick and Fraction are currently developing television for NBC/Universal.