By Carlos M. After about a full year's wait, Reed Pop's Chicago Comic & Entertainment Expo (aka C2E2) roared back into Chicago's McCormick Place for their 4th annual show this past weekend.
With a lineup that included Stan Lee, Hulk Hogan, Game of Thrones, The Walking Dead and a $10k Cosplay Contest, this show was aiming to have something for everyone and then some.
So how did they do? Overall, a very good con and on a rating scale, I would rank this year's show a strong 4 stars out of 5. Was it the best C2E2 ever? Not quite – that title is still held by their first foray in Chicago. Is it the best con held in the Midwest? Quite possibly yes. Highlights and comments for the show by category are as follows:
Artist Alley / Comic Creators:
Seriously, whoever was in charge of signing up talent for this show needs to get constant high fives, and a big raise! The roster for the show was incredible with a variety of established legends (Hughes, Weeks, Jurgens, etc) along with the 'young guns' talent (Asrar, Vitti, Pitarra, etc). For the Batman fanatics, nearly all of the great modern talent was there (Snyder, Daniel, Fabok, Nguyen, etc). Overall, from a comic lover or an art lover's perspective, artist alley was an absolute dream. Entertainment Guests:
Having Hulk Hogan there alone makes this a 5 star list (although Hogan showing up 3 hours late was definitely not a 5-star experience!). Stan Lee, Walking Dead cast members, Game of Thrones members, Wrestlers and even the kid from Breaking Bad was there! All in a varied guest list that covered a variety big pop culture genres.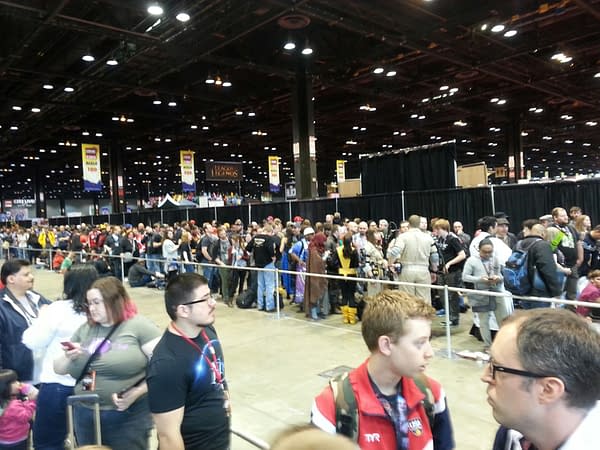 Crowd Control / Floor Spacing:
Despite the great line ups, the crowds were not insane. Walking through the con was easy even on the busier Saturday. Booth and aisle spacing was generally good so no one was bumping into each other. Exhibitors:
Kudo's for bringing the Block back and having a variety of new items there. And kudos for having Marvel, Dark Horse, Valiant, and a variety of other exhibitors there. But no DC again?? How can you have a big time con in one of the world's largest cities and not have a DC booth there? With DC having the best booth at other cons, they were sorely missed again. Cosplay / Costume Contest:
Ah the costume contest… With a $10k prize, the expectation was for absolute cosplay insanity on Saturday with the greatest cosplay contest ever – and judging by how large the line was that was trying to get in, I wasn't the only one with these expectations. Sadly, with the focus of the contest being largely on the 'craftsmanship' for the costumes, what the judges sadly missed was the 'fun' aspect of cosplaying.
In general, a great show, a great weekend, and definitely a show that you should check out in 2015 – save the date for April 24 – 26 of 2015!).
For more pics, feel free to follow me via Instagram (screen name: eewwnuk).
Enjoyed this article? Share it!