It's hard to keep track of him when there are so many versions floating around the timestream, but Marvel seems to have lost its Cable, at least the one with a solo ongoing series, in their August solicitations.
While Cable and Deadpool are reunited for an Annual in August, the regular Cable ongoing is nowhere to be found, following the conclusion of the run by Lonnie Nadler, Zac Thompson, and German Peralta, which promised the revelation of Cable's "dark secret" — something to do with the origin of Metus — and which is collected in August in trade paperback.
Will that have been the finale for this volume of Cable? And with Cable hot off the success of Deadpool 2, currently burning up the box office charts, can Marvel afford to keep him on the shelf for long? Maybe a Fresh Start in the Fall?
Check out the solicits below: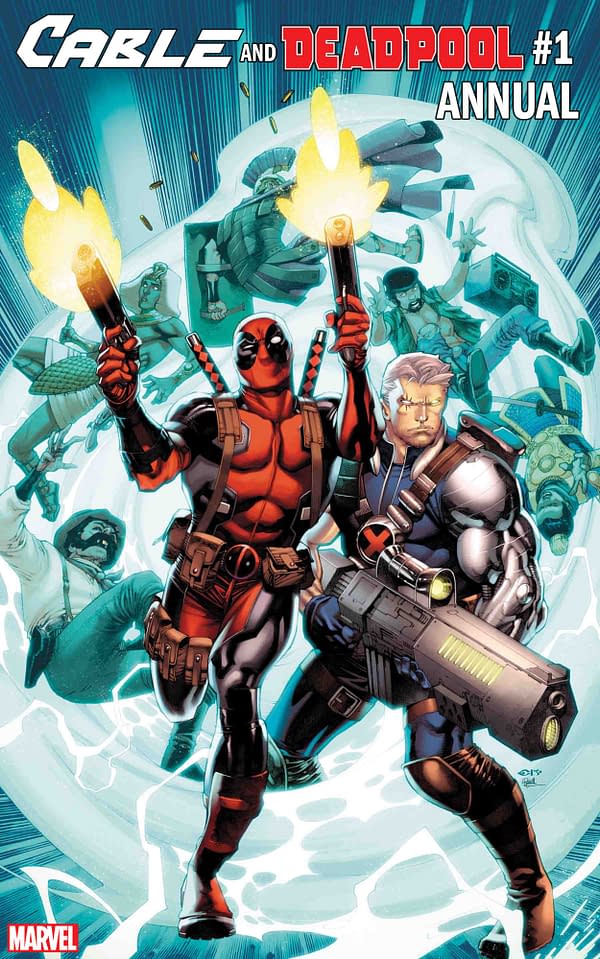 CABLE AND DEADPOOL ANNUAL #1
David F. Walker (W) • Paco Diaz and others (A)
COVER BY Chris Stevens
VARIANT COVER BY TBA
THE TIME IS NIGH!
History's favorite duo are back together, and just in time! When Deadpool is hired to protect a woman from time-hopping villains, it's only a matter of time until he breaks the timestream. Fortunately, his old pal Cable has some experience with that. But dark secrets have put the client, and reality itself, in more danger than either of our heroes could have foreseen! David F. Walker, Paco Diaz, and a host of stellar guest artists take Cable and Deadpool on an adventure of epic proportions!
32 PGS. /Rated T+ …$3.99

CABLE VOL. 3: PAST FEARS
Written by ZAC THOMPSON & LONNIE NADLER
Penciled by GERMAN PERALTA
Cover by DANIEL WARREN JOHNSON
Cable and Hope are reunited! It wasn't so long ago that Nathan and his young ward, the prophesied savior of the mutant race, were fleeing from the murderous Bishop across a barren future wasteland. But now Bishop isn't the only one hell-bent on hunting down the daddy/daughter duo: A strange techno-organic creature wants them dead! As fear consumes Cable, can he fend off both Bishop and a bloodthirsty monster — or will Hope be lost? And what is the creature's connection to Cable? Then, Nathan resumes the Hellfire Hunt as his Age of Apocalypse half-brother, X-Man, returns! But is the world ready for an original X-Force revival? Just ask Cannonball, Domino, Feral, Boom-Boom and Shatterstar! Plus: A journey back to Cable's childhood with Redd and Slym! Collecting CABLE (2017) #155-159.
112 PGS./Rated T+ …$15.99
ISBN: 978-1-302-91196-6
Enjoyed this article? Share it!