The CBLDF Calls For Austinites to Protest Council Over Lilah Sturges Cancellation
Texas newspaper Hill Country News has reported that city officials at the Leander Public Library abruptly cancelled an appearance of comic book creator Lilah Sturges by e-mail due to "unforeseen circumstances" just two hours before it was scheduled to begin.
The event, part of the library's weekly graphic novel book club comes after protest against LGBTQ-inclusive programming in the library and against a local church that held a LGBTQ-themed storytime event. Lilah Sturges, known for her work on Jack of Fables, Thor: Season One, House of Mystery, Lumberjanes: Infernal Compass, and The Magicians: Alice's Story, is a trans woman comics creator.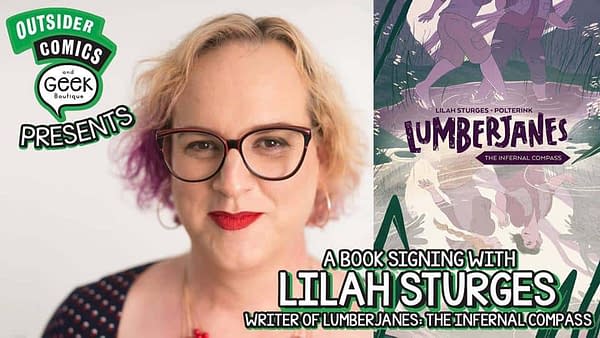 The library explains that the cancellation was part of a previously unannounced expansion of a plan to cancel library events not directly organized by city or library staff, following a recent pride event in the Library and a related protest, but this is a temporary measure awaiting a review. Sturges is the only guest speaker to have been dropped, while other events and speakers have appeared as usual.
The National Coalition Against Censorship has stated that
This capricious application of expanded restrictions strongly suggests a bias against Sturges's gender identity and a gross violation of First Amendment principles'…

It appears that prejudice and not process motivated the cancellation of Lilah Sturges's book club visit. Sturges's talk was neither scheduled to take place in a library meeting room, nor was it organized by an external group. As early as May 2019, Leander Library management invited Sturges to attend its graphic novel club's July 9th meeting to discuss her Lumberjanes series. Shortly after scheduling the event, library management met with city officials and notified them of Sturges's planned visit. No city officials objected.

Despite these facts, on July 9th, city officials cancelled the event hours before Sturges was to appear, citing an expanded event policy that imposed a background check requirement. Officials demanded that Sturges submit to a screening before her talk could be rescheduled. Sturges has indicated that, were she informed in time, she would submit to a background check.
The Comic Book Legal Defense Fund called for those who live in the Austin/Leander area, to consider attending the Leander City Council meeting last night.
Lilah Sturges is appearing at San Diego Comic-Con this weekend. The CBLDF party is tonight at the Westgate…