Ch-Ch-Changes: Aftershock's Jackpot #5 Will Now Be Released In April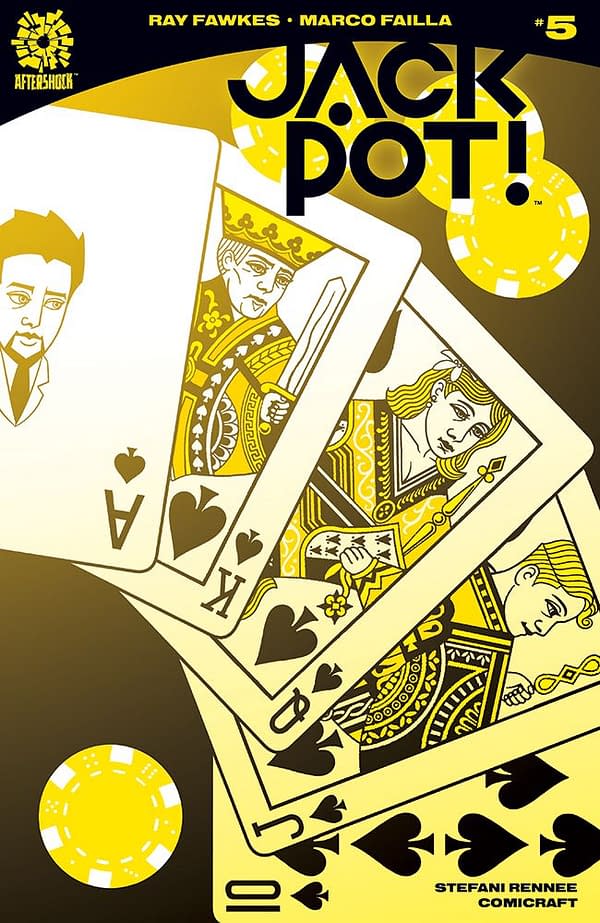 Jackpot, the Aftershock comic by writer Ray Fawkes, artists Marco Failla (issues #1-3) and Georges Duarte (issue #4), colorists Stefani Renee, and featuring covers by Brian Stelfreeze, is one of the company's finest offerings, but fans may have been a little dismayed due to its somewhat sporadic release schedule. The first issue came out back in April, and the second in May. But Jackpot #3 skipped a month, hitting stores in July, and Jackpot #4 skipped several months, coming out in November with a new artist. Jackpot #5 was set to come out in December, but that didn't happen, and customers who placed orders via online retailers like DCBS were informed that the comic would be resolicited in a future issue of Previews.
Elsewhere on the web, the status of Jackpot #5 appears somewhat in dispute. Comixology lists the print release date as March 1, 2017 and the digital release as April 26, while Previews World, on the other hand, has the comic set for June 28 release, at least at the time of this writing. So who can you trust on when you'll get your next Jackpot fix?
Why, Bleeding Cool, of course! Pip pip!
Aftershock Editor-in-Chief and Grim Reaper of Comics Mike Marts tells Bleeding Cool that the comic's official release date is April, and that the delays are due to creative reasons.
Solicitations all agree, at least for now, that Duarte will be the artist on Jackpot #5.