There are often a few changes 'twit solicitation and publication.
Infinity Countdown #2 has had a page bump from 40 pages to 48… still $4.99. Odd use of the word 'still', I know.
Hunt For Wolverine #1 has added Paulo Siqueira, to the previously solicited David Marquez.
While X-Men Gold #27 will now have art by David Marquez, in addition to the previously announced Geraldo Borges.
I suspect that these two events are connected.
And Fantastic Four: Behold Galactus Hardcover will now be $75 instead of the previously solicited $50. Ouch.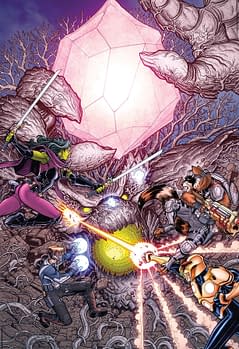 INFINITY COUNTDOWN #2
(W) Gerry Duggan (A) Aaron Kuder, Mike Hawthorne, Mike Deodato (CA) Nick Bradshaw
THE BATTLE FOR THE STONES CONTINUES!
The secret is out about the Power Stone, and the Chitauri are in on the action as the Raptors, Novas and Guardians meet for a showdown in space! PLUS: Adam Warlock enters the fray after the events of INFINITY COUNTDOWN: ADAM WARLOCK-his next move will set the stage for cosmic chaos to come!
Rated T+In Shops: Apr 18, 2018
SRP: $4.99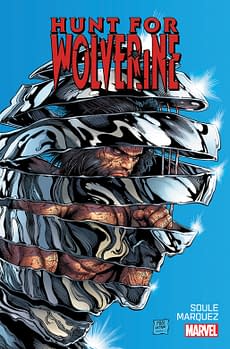 HUNT FOR WOLVERINE #1
(W) Charles Soule (A) David Marquez, Paulo Siqueira (CA) Steve McNiven
The RETURN OF WOLVERINE begins here, providing the first piece of a mystery that will leave no corner of the Marvel Universe untouched. Just as the X-Men have finally come to terms with Logan's death, they learn a terrible secret. Old wounds will be re-opened, truths questioned, and an epic quest begun. The earliest clues to the mystery of Wolverine's return are laid down here… who will solve it first?
Rated T+In Shops: Apr 25, 2018
SRP: $5.99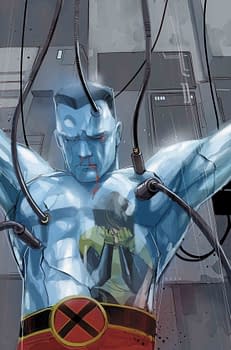 X-MEN GOLD #27 LEG
(W) Marc Guggenheim (A) Geraldo Borges, David Marquez (CA) Phil Noto
PREPARE FOR THE WEDDING OF THE CENTURY!
• LYDIA NANCE, the anti-mutant lobbyist, and 0101, the most advanced Sentinel on the planet, have found each other.
• Their goal?
• Kill the X-Men – starting with COLOSSUS.
Rated T+In Shops: May 02, 2018
SRP: $3.99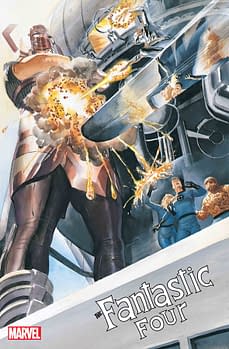 FANTASTIC FOUR BEHOLD GALACTUS HC
(W) Stan Lee (A) Jack Kirby (A/CA) Joe Quesada
PRESENTED IN MONSTER-SIZE FORMAT!
The Fantastic Four take on Galactus in one cosmically oversized hardcover! First, Stan Lee and Jack Kirby introduce the World-Eater and his enigmatic herald, the Silver Surfer, as they come for Earth in one of the greatest comic book sagas ever told! Next, Stan and Jack bring big G back – but what does he want this time? The answer lies in the Microverse! John Buscema's powerful pencils illustrate the arrival of new herald Gabriel the Air-Walker, signaling doom for the human race! Then, John Byrne takes over as Terrax leads the Devourer back to Earth – and the entire Marvel Universe pitches in to help the FF save the planet from becoming his next meal! With Kirby, Buscema and Byrne art showcased on enormous pages, Galactus has never looked bigger – or better! Collecting FANTASTIC FOUR (1961) #48-50, #74-77, #120-123 and #242-244.
Rated T+
Trim size: 13-41/64" x 21-1/4"In Shops: Aug 29, 2018
SRP: $75.00
Enjoyed this article? Share it!