Chebacca's Secret Fetish Revealed in Star Wars AOR Princess Leia #1
Star Wars: Age of Rebellion: Princess Leia #1 hits stores next week, showing us what the titular Princess got up to after escaping Cloud City when her boyfriend Han Solo was trapped in Carbonite at the end of Empire Strikes Back. A preview of the comic shows us a glimpse of life on the Millennium Falcon without Han, as Leia explores Han's bachelor pad bedroom…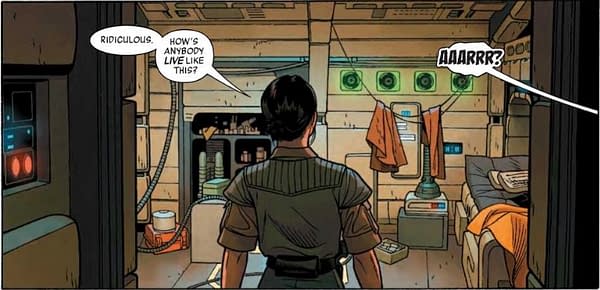 She quickly locates some blaster cartridges but becomes distracted when she sees Han's bed.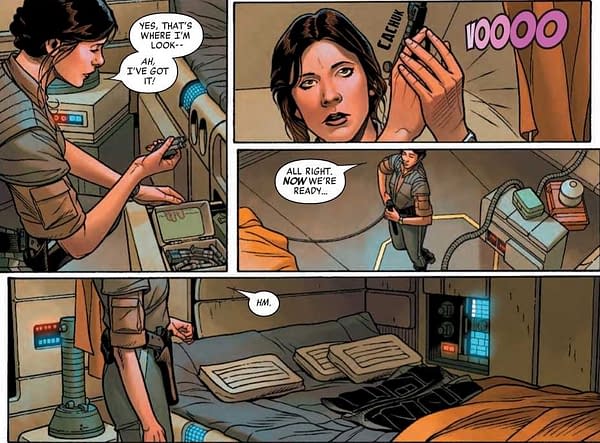 And picking up his pillow, Leia is overcome with emotion… before coming to a shocking revelation…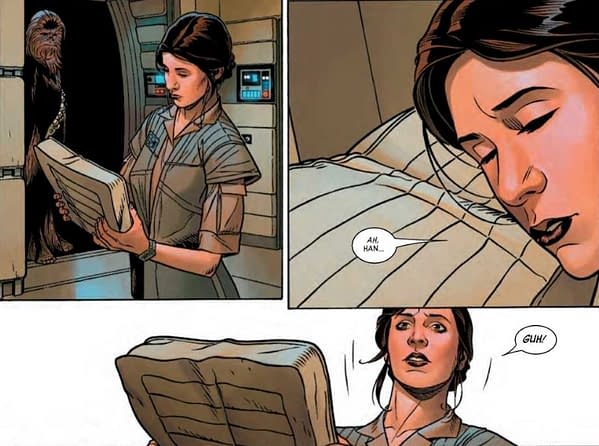 It seems a certain wookie has been sleeping in Han's bed since he's been gone!

Though Leia quickly comes to sympathize with her furry friend…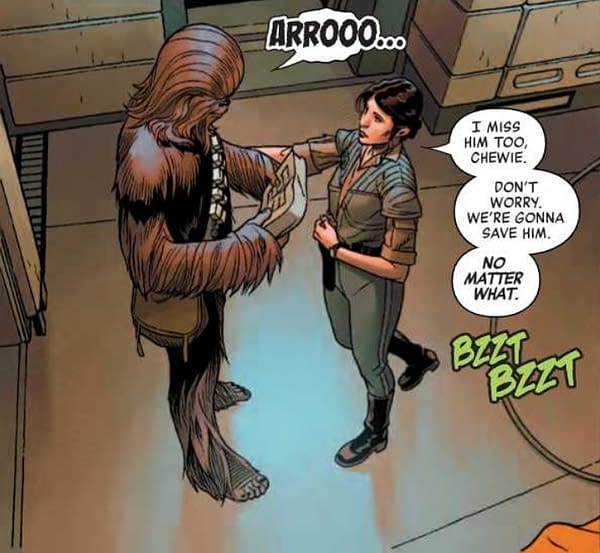 Awww! And how does Leia know they're going to save Han, anyway? Has she already seen Return of the Jedi?
Star Wars: Age of Rebellion: Princess Leia #1 hits stores on Wednesday.
Star Wars: Age of Rebellion: Princess Leia #1
(W) Greg Pak (A) Chris Sprouse (CA) Terry Dodson, Rachel Dodson
BOUNTY HUNTER PRINCESS!
With HAN SOLO frozen in carbonite in the palace of JABBA THE HUTT, PRINCESS LEIA prepares for a daring rescue by taking on the identity of the bounty hunter BOUSHH. But in order to succeed, she'll have to prove herself in her new identity to the ruthless bounty hunter BOSSK! With her life and all of her principles on the line, how far will Leia go to rescue a scoundrel? Co-starring CHEWBACCA and LANDO, who almost certainly have a bad feeling about this!
Rated T
In Shops: Apr 10, 2019
SRP: $3.99