Chris Ryall: IDW's Star Wars Comics Will "Develop The Next Generation Of Star Wars Readers" For Marvel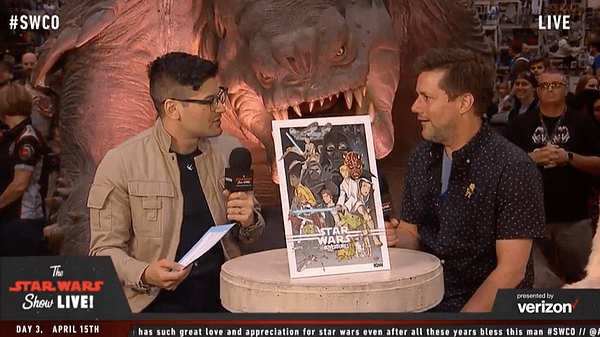 On the livestreamed "The Star Wars Show Live Presented By Verizon" from Star Wars Celebration Orlando, IDW Editor-in-Chief Chris Ryall gave an interview about IDW's recently announced line of Star Wars comics for young readers, headlined by Star Wars Adventures, launching in September. Ryall shared some new details on the comic, including, perhaps most importantly, their purpose.
"We love what Marvel's been doing. I'm so into those comics," said Ryall when asked how the comics would differentiate themselves from Marvel's Star Wars comics. "But I have an eleven year old daughter. I would love to be able to go into the store and buy a comic for me, buy a comic for her. Now she'll be able to read Star Wars too and enjoy it. So these are gonna be high octane, high energy adventure stories. Not real steeped in the continuity. So it's for people that are new to Star Wars, new to comic books. Our goal is basically to develop the next generation of Star Wars readers that then gravitate to the Marvel comics later on."
It's a smart move by Disney, and IDW are the right publisher for the job. And while the IDW exec does say its purpose is at least partially to funnel readers to Marvel's comics, it's also hard not to wonder if this represents a lack of faith in Marvel by Disney to appeal to young readers or new readers and accomplish that task themselves, though Ryall doesn't say anything like that himself.
"We want to get comics into the hands of young kids, and not every young kid is going to comic shops," Ryall says later in the interview when talking about IDW's experience with licensed comics and their Micro Fun Packs, in which the company "basically shrunk comics down to trading card size and racked them in mass market alongside all the trading card games." My Little Pony, Transformers, and TMNT are books featured in the Micro Fun Packs, alongside Marvel's own Star Wars and Avengers comics, which come with a mini comic, stickers, and a poster inside an attractive foil pack, and are featured in stores like Walmart and Target.
Ryall also shares some details on what we can expect from Star Wars Adventures.
"The nice thing is it's rotating creative teams because it's an anthology series, so there's gonna be a lot of opportunities for a lot of people," Ryall said when asked about the creative teams. "This first piece [of promo artwork shown in the screencaps] is by Eric Jones. We had an image done by an artist named Chris Samnee who's an amazing artist. An artist named Derek Charm. There's gonna be a lot of space for a lot of great talent to play around."
"The plan is to do a lead story that features really familiar characters that people are seeing in the movies, and then backup stories hosted by Maz [Kanata] that are kind of more legends of the Star Wars universe," Ryall continued. "And that allows us to play with lesser known characters or fan favorite characters who maybe couldn't sustain lead stories but could be the star of backup stories."
However, Ryall did have a warning for readers, adding, "With Maz hosting it, you have to make sure that she's a trustworthy narrator. She knows a lot about the universe. Some of the stories might be in canon. Some of them might be told for other purposes she has in mind."
Star Wars Adventures launches in September.