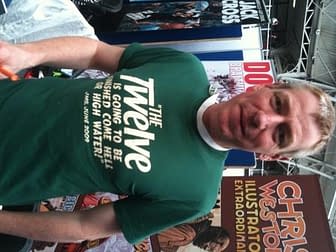 Chris Weston has been sporting this T-shirt for a couple of years now. And it had pride of place at Kapow this weekend.
Well, here's some news for The Twelve watchers, Chris Weston now has the first eleven pages of script for issue eleven of The Twelve. And he's just started inking his pencils for them.
Course, he has his own distraction now, storyboarding and concepts for the new Akira movie….
Photo by Dom Sutton
Enjoyed this article? Share it!