Neil Gaiman once described the design of the character Death from Sandman and Death: The High Cost Of Living, thus:
Death is the only major character whose visuals didn't spring from me; that credit goes to Mike Dringenberg. In my original Sandman outline, I suggested Death look like rock star Nico in 1968, with the perfect cheekbones and perfect face she has on the cover of her Chelsea Girl album.But Mike Dringenberg had his own ideas, so he sent me a drawing based on a woman he knew named Cinamon Hadley — the drawing that was later printed in Sandman 11 — and I looked at it and had the immediate reaction of, "Wow. That's really cool." Later that day, Dave McKean and I went to dinner in Chelsea at the My Old Dutch Pancake House and the waitress who served us was a kind of vision. She was American, had long black hair, was dressed entirely in black — black jeans, T-shirt, etc. — and wore a big silver ankh on a silver necklace. And she looked exactly like Mike Dringenberg's drawing of Death.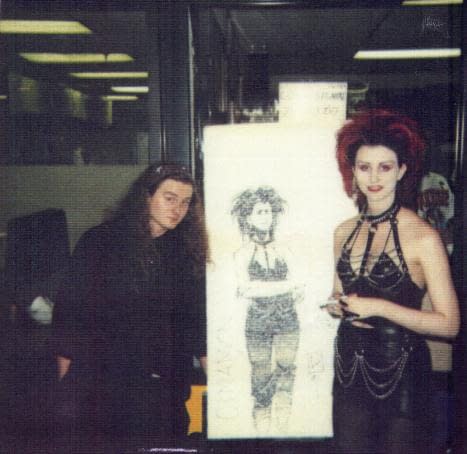 Sadly, the woman who gave Mike Dringenberg that iconic look has passed away, after being diagnosed with cancer of the colon, which went into remission, but returned. The friends of designer Cinamon Hadley have been celebrating her life and mourning her passing.
Rest in Peace, or head off to your next adventure, Cinamon Hadley. You gave Death of the Endless her face and her smile. https://t.co/lsikh0BHCW

— Neil Gaiman (@neilhimself) January 6, 2018
Today is a very sad day. @eyesofmedusa aka Cinamon Hadley lost her battle with Cancer. She could have easily been stuck-up given her otherworldly beauty and the whole "I was the model for Death in @neilhimself #Sandman Comic", but she wasn't.

— Geek Girls News (@GeekGirlsRising) January 6, 2018
#Death needs to trend in memory of my friend of 33 years, & muse from #TheSandman comic @neilhimself an angel in life and death #CinamonHadley pic.twitter.com/zIlLmtRWX7

— ivie.lush.life. (@ivonnatinkle) January 6, 2018
Rest In Peace, Cinamon Hadley @eyesofmedusa , the real life model of Death. 😢😢😢😢😢 you will be eternally missed and never forgotten. 🌹💖💖💖 pic.twitter.com/hR6ZRANP7T

— ☥ a cute darkling🦇 ☥ (@horrorette) January 6, 2018
@eyesofmedusa will be missed by so many. Please take a moment today to express your adoration of your loved ones. Keep her brightness afloat.

— Amandalorian (@Divamanda23) January 6, 2018
Rest in peace, dear sweet Cin. You are loved more than our hearts can hold or ever explain, the world will never be the same without you in it. Go easy, and rest now. We love you so much. @eyesofmedusa

— Morgan Valentine (@Sepulchral_r0t) January 6, 2018
We're all in this together. If there was ever ONE person who didn't deserve this fate, it was her. Please know that the end was peaceful, and beautiful, and graceful – just like you would expect from her. Our perfect Warrior Angel

— Tracy Hyland Painter (@Victorianrose23) January 7, 2018
And there are the nascent plans for something more, as a tribute.
yeah let me know.. I know AB has the manuscript and I have all of Nef's pictures (disks and disks and disks of them) I would love to be a part of it, whatever you need. Still seems unreal but ..

— Geek Girls News (@GeekGirlsRising) January 7, 2018
We will definitely keep everyone in the loop. Some of us started putting together the bare bones of the idea last night, while we waited, and drank WAY too much whiskey. We want anyone who wants to be involved to be included. Give me a few days.

— Tracy Hyland Painter (@Victorianrose23) January 7, 2018
Our condolences and thoughts to all those who knew her. And our support for anyone looking to put such a tribute together.
Enjoyed this article? Share it!