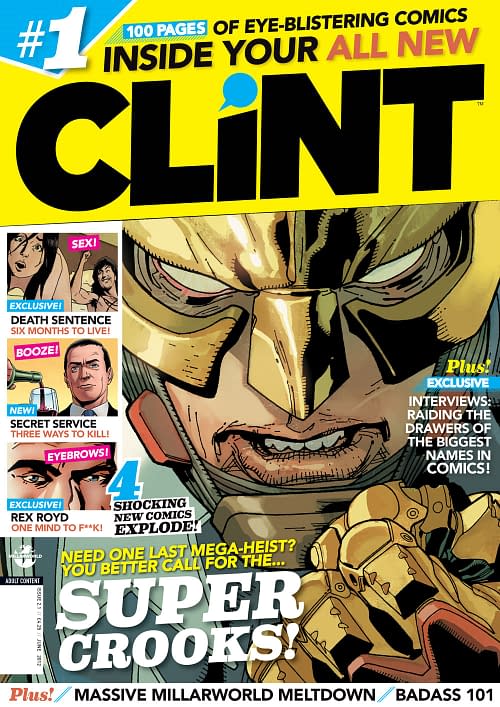 CLiNT Magazine from Titan Publishing has had an interesting run. Initially launched as a Mark Millar-themed way to get comic books into news stands with high profile names such as Jonathan Ross and Frankie Boyle for the UK mainstream market, the magazine lost supermarket and independent news stand distribution, though remains prominent in national chain WH Smiths… and gained a much greater following than expected in comic stores, leading to Titan also distributing the magazine in the US. The desire to recruit new talent also seemed to dry up, with some people who were told their stories had been bought over a year ago, reporting that they have had no contact with the magazine since, save for the confirmation of their e-mail address. Instead the magazine has turned to the likes of Image Comics, reprinting relatively lower selling titles such as Who Is Jake Ellis and Graveyard Of Empires and finding a new audience for them. But with its lead title Kick Ass 2 coming to an end, maybe it needed a shot in the arm to alert the audience as to… whatever is coming to replace it. Supercrooks, The Secret Service, Jupiter's Children, that sort of thing.
In May, CLiNT will relaunch as CLiNT 2.0, with a new issue 1, with Supercrooks on the cover, Secret Service, Rex Royd and Death Sentence on the insides and all in time for the London Kapow Comic Convention, also Mark Millar themed, also funded by CLiNT publisher Titan, which would be a perfect place to relaunch the magazine. And with Jimmy Carr in attendance, maybe there will be another strip from him coming soon ? And maybe some of the Space Oddity chosen ones as well?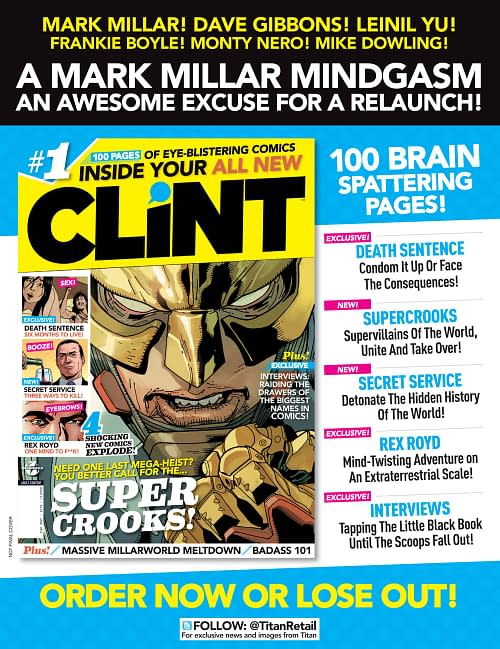 Enjoyed this article? Share it!