Here Come The Reggies!: Jughead #13
[rwp-review-recap id="0"] Since it was announced that Mark Waid would be taking over the Jughead title in the future, I've felt a little bad for everyone's favorite burger eating lazy man. Waid is an exceptional writer, but the current creative team (Ryan North, Derek Charm) is pretty darn good.
We open with Dilton who is attempting his own recap of the story thus far. It's one of the funniest bits I've read in comics in a long while. I enjoyed the tongue in cheek reference to Wikipedia not being a reliable source of info, with Dilton telling the reader that Jughead was first published in 1846. Thankfully Chuck steps in and gives a concise recap. I'm glad to see that Chuck retains his good humor in this universe (cause he's a dick in Riverdale). We pick up after Reggie won last issues video game challenge, and now he is kind for a month. Archie acknowledges that the idea is pretty dumb and they don't have to listen to Reggie, but Jughead is a man of his word. Jughead also causes Archie to have a mild breakdown at the idea of getting older, but you and I know that will never happen to these characters.
This issue is full of in the know gags. When Archie and Jughead go to pick up band equipment, they are presented with a number of bands they could be getting it for. My favorite was "Melody With Literal Cats" because that's something Melody would honestly do.
There's also a great nod to "Sugar, Sugar" which will make you laugh. Of course Jughead does make a mess of things via a viral video…but you really need to pick this series up to find out. North and Charm are excellent story tellers and clearly know Jughead well. I'll be sorry to see them go!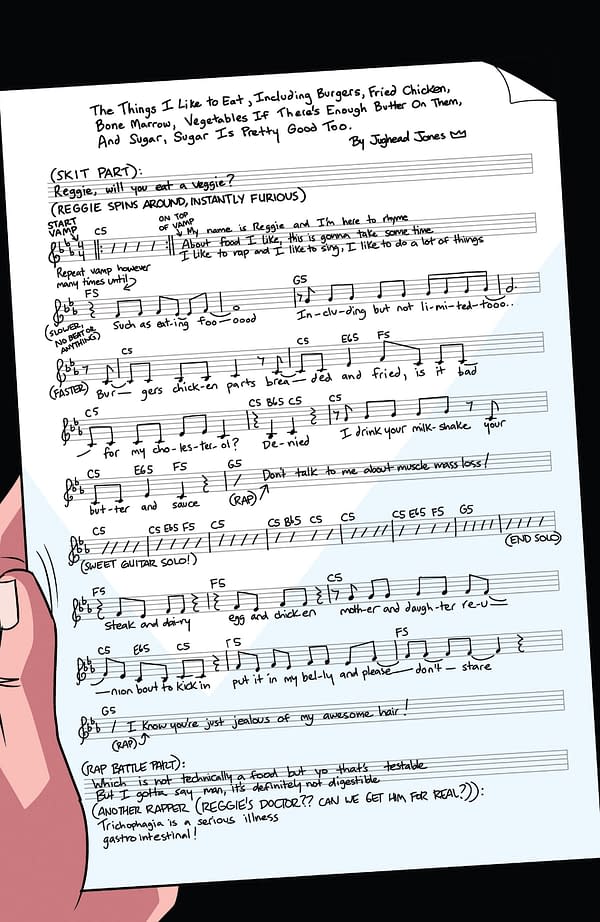 [rwp-review-ratings id="0"]
[rwp-review-form id="0"]