The Comic Book Creator Credits For Birds Of Prey (And The Fantabulous Emancipation Of One Harley Quinn)
Not everyone stays to the end of movies. The very end I mean, after the credits have rolled. Not even super hero movies. Marvel movies usually have mid-credit scenes and post-credit scenes. DC movies don't. But there are exceptions to both. And while you just get a message from Harley at the end of Birds Of Prey (And The Fantabulous Emancipation Of One Harley Quinn), you do also get one of the longest creator credits I've seen in a superhero movie…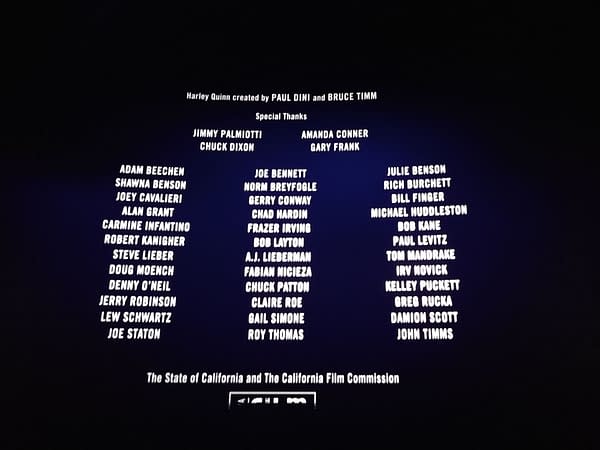 Paul Dini and Bruce Timm co-created Harley Quinn together but Jimmy Palmiotti, Amanda Conner and Chad Hardin created much of the imagery used in the film – and a certain beaver to boot. While Chuck Dixon and Gary Frank created the Birds Of Prey comic – and there is also credit for Gail Simone and Julie Benson who wrote more recent iterations of the team. There are also credits for the creators of the Joker, Black Mask, Black Canary, Renee Montoya, Cassandra Cain and Huntress. And anyone who may have made significant input into said characters over the decades…
The biggest question is… who is missing? Ed Benes? Here's the full list:
Harley Quinn created by PAUL DINI and BRUCE TIMM
Special Thanks
JIMMY PALMIOTTI
CHUCK DIXON
AMANDA CONNER
GARY FRANK
ADAM BEECHEN
SHAWNA BENSON
JOEY CAVALIERI
ALAN GRANT
CARMINE INFANTINO
ROBERT KANIGHER
STEVE LIEBER
DOUG MOENCH
DENNY O'NEIL
JERRY ROBINSON
LEW SCHWARTZ
JOE STATON
JOE BENNETT
NORM BREYFOGLE
GERRY CONWAY
CHAD HARDIN
FRAZER IRVING
BOB LAYTON
A.J. LIEBERMAN
FABIAN NICIEZA
CHUCK PATTIN
CLAIRE ROE
GAIL SIMONE
ROY THOMAS
JULIE BENSON
RICH BURCHETT
BILL FINGER
MICHAEL HUDDLESTON
BOB KANE
PAUL LEVITZ
TOM MANDRAKE
IRV NOVICK
KELLEY PUCKETT
GREG RUCKA
DAMION SCOTT
JOHN TIMMS
Any more for any more?