 So, the UK had a General Election. Everyone either won or lost.
I'm still trying to figure out what the hell happened with the UK vote.

— Tess Fowler (currently working on a CO GN) (@TessFowler) June 9, 2017
I tried to explain the result, in an article called Welcome To Weird Britain, last night. Not sure how well I did. But I wish I could have used this photo from Theresa May's own seat results.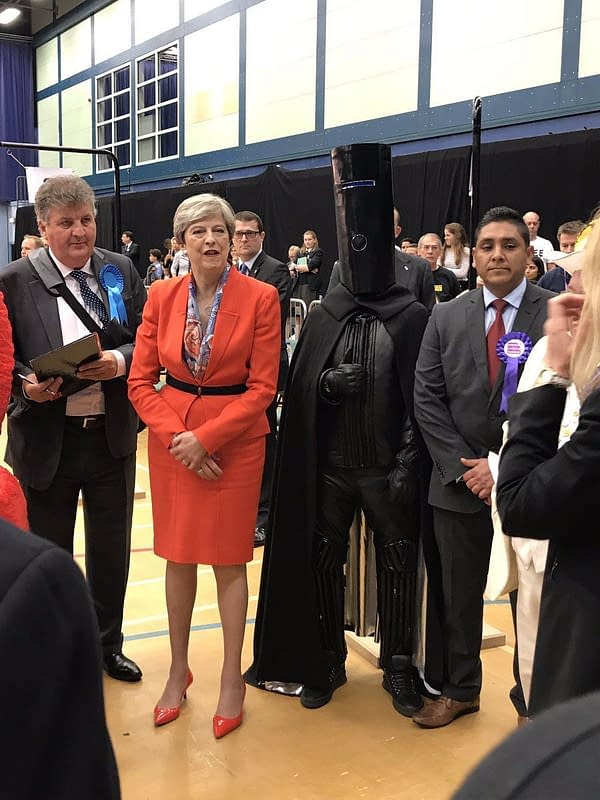 She might resign. She might not. Corbyn hasn't resigned. Paul Nuttall has.
But all sorts of comics folk wanted to chime in.
Paul Nuttall being delusional. However, he has resigned so here's Nigel, waiting giggling in the wings #GE2017

— Mike Collins (@MIKECOLLINS99) June 9, 2017
The difficult thing will be keeping new voters engaged when we do this again in October but for now, this is very, very funny.

— Al Kennedy (@housetoastonish) June 9, 2017
https://twitter.com/WhatRobinDoes/status/873066318873755654
https://twitter.com/andydiggle/status/873116767828103168
Oi, @DailyMailUK , @thesun, @dailyexpressuk : pic.twitter.com/ovJZoFD39L

— Chris Weston- #SelfEmployed creator of comic art (@westonfront) June 9, 2017
Hmm, Conservatives + DUP + Boris as PM = Hieronymus Bosch painting. Careful what we wish for.

— Rob Williams (@Robwilliams71) June 9, 2017
A majority of one, with no formal coalition, and no chance of hard Brexit. One by-election away from defeat. Still great.

— Paul_Cornell (@Paul_Cornell) June 9, 2017
Paul Nuttall to resign to go back to being a professional footballer/astronaut.

— Rob Williams (@Robwilliams71) June 9, 2017
Even he's anything like Farage he'll be back in a minute https://t.co/0Gf1pfvYnL

— ollie masters (@olliemasters) June 9, 2017
If you're a Scot that voted Tory yesterday you should hang your head in shame as you watch Boris enter Number 10 holding hands with the DUP.

— David Baillie (@davidbaillie) June 9, 2017
"I am stepping down with immediate effect, because I was only keeping Nigel's seat warm"

— Tom Muller (@hellomuller) June 9, 2017
"Well now I'll never know if I was right…" pic.twitter.com/pXDm2x8DpS

— Clayton Hickman (@claytonhickman) June 9, 2017
#GE2017 Everyone who screws up for the next few weeks be like… pic.twitter.com/CHhXq0mSg1

— Nigel Auchterlounie (@spleenal) June 9, 2017
You know what? The real fight really *does* start now.

— Paul_Cornell (@Paul_Cornell) June 9, 2017
British progressives: stand together. Enough of the circular firing squad bullshit. Remember who the real enemy is.

— Andy Diggle (@andydiggle) June 9, 2017
https://twitter.com/PopCultureHound/status/873118000416661505
I'm off to Brighton for the ICE comic con. As are a couple of folks mentioned above. I'm sure this will keep on keeping on.
Enjoyed this article? Share it!