Matthew Snyder writes his regular dissection of digital comic book sales. Welcome to the ComiXology Bestseller list, your guide to see how well your favorite titles are selling digitally. Every week I'll post the ranking of every new title, plus a ranking of the best selling volumes & graphic novels. As always, I hope you find it interesting and informative.
Is everyone enjoying Comic-Con? I know I am. True, I may not be in San Diego, but I am participating in an annual Comic-Con tradition: grabbing all the exclusive Funko Pops sold around town.
Now Funko collecting does make me a little crazy. Brawls may or may not have been started, and arson may or may not have been committed. And I would I like to say to the good people of Hot Topic what happened with the giant ceramic pretzel was nothing personal. Unfortunately, my Uber driver is lost, EVEN THOUGH THERE'S ONLY ONE BARNES & NOBLE IN TOWN, so I have some time to talk about digital comic sales.
Alright, this is a pretty light week.  This is becoming more of a trend of late, with some release slates being clearly more loaded than others. This makes it more difficult to see how some titles are doing overall. But hey, just because a title made the Top 10 on an easy week doesn't mean they get an asterisk put next to them. It's still a big achievement. So with that, let's look at the score:
Marvel: 30
DC: 21
Dark Horse: 4
It's a familiar story: DC leads the 3rd week with Batman and Justice League but not much else, giving Marvel an opening to take the Top 10. Of course, DC could have a much better chance if they shifted one of their other big titles, like Flash or Young Justice, to this week. But should they shift their entire release schedule so they can win a meaningless Top 10 battle on the internet each week?
Yes.
This week is significant for one big reason, though: Uncanny X-Men and Age of X-Man is wrapping up to make way for Jonathan Hickman's House of X. Now the multiple Age of X-Man miniseries have been all over the place on the sales chart, probably due to all the fatigue following the Infinity Wars, Spider-Geddon and War of the Realms miniseries.
However, Matthew Rosenberg's Uncanny X-Men has finished at No. 3, and was often one of Marvel's best digital sellers. It was a big improvement over X-Men Red, Blue and Gold, the latter two only cracking the Top 10 on slow weeks. And yes, I have seen complaints over character deaths and overall bleak tone of the series, but you what other series I saw those very same complaints towards? Heroes in Crisis, and that sold gangbusters. Once again, the majority of comments say one thing, and the people's wallets say another. (Do people still say gangbusters? It sounds like a word that's old but I have no clue how far back it goes. Maybe it's new but just sounds retro. Hmmmm…..)
But as good as Uncanny X-Men has been, how well will Jonathan Hickman's House of X do? Needless to say, expectations are high, as his return to Marvel has been one of the most talked-about topics in comics of late. Find out next week!
Alright, my Uber driver got me to Barnes & Noble in time. I got my Astronaut Snoopy Pop, so my Uber driver will get 5 Stars and the location of the antidote. Till next time!
#bringbackblade
#savesantaclaritadiet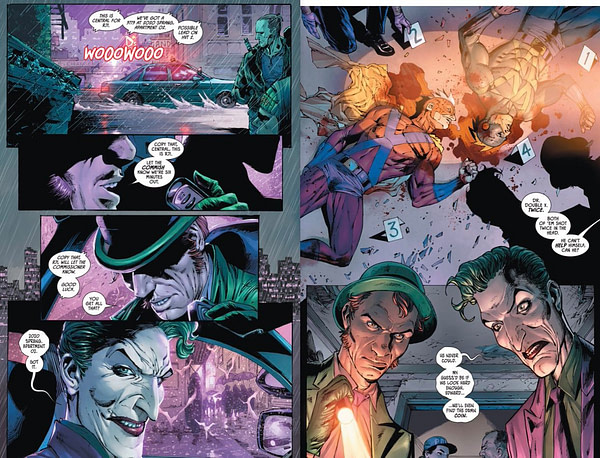 Top 25 Overall:
Batman #75
Justice League #28
Uncanny X-Men #22
Immortal Hulk #21
Spider-Man: Life Story #5
Daredevil #8
Critical Role: Vox Machina II #1
Age of X-Man Omega #1
Jimmy Olsen #1
Star Wars: Doctor Aphra #34
Loki #1
Nightwing #62
Aquaman #50
Captain Marvel #8
Silver Surfer: Black #2
Teen Titans #32
X-Force #10
Superior Spider-Man #9
Star Wars: Tie Fighter #4
Invaders #7
Batman #74
Sandman Vol. 1: Preludes & Nocturnes (30th Anniversary Edition) (62% off)
Sandman Vol. 4: Season of Mists (30th Anniversary Edition) (62% off)
Gideon Falls #15
Black Science #41
New Issue Rankings:
Batman #75
Justice League #28
Uncanny X-Men #22
Immortal Hulk #21
Spider-Man: Life Story #5
Daredevil #8
Age of X-Man Omega #1
Jimmy Olsen #1
Star Wars: Doctor Aphra #34
Loki #1
Nightwing #62
Aquaman #50
Captain Marvel #8
Silver Surfer: Black #2
Teen Titans #32
X-Force #10
Superior Spider-Man #9
Star Wars: Tie Fighter #4
Invaders #7
Gideon Falls #15
Black Science #41
Blade Runner 2019 #1
Lucifer #10
Firefly #8
Deadpool #15
The Punisher Annual #1
Domino: Hotshots #2
The Unstoppable Wasp #10
Vampirella #1
Lady Mechanika: Sangre #2
Collapser #1
Pearl #11
Little Bird #5
Hit Girl Season Two #6
Assassin Nation #5
Marvel's Spider-Man: City At War #5
Doctor Who: The Thirteenth Doctor #10
Usagi Yojimbo #2
Secret Warps: Ghost Panther Annual #1
James Bond: 007 #9
The Orville #1
Bloodborne #13
Animosity #22
Ragnarök: The Breaking of Helheim #1
Faithless #4
Excellence #3
The Life and Death of Toyo Harada #5
Jughead the Hunger vs Vampironica #3
Rumble #14
Port of Earth #12
Fairlady #4
They Called Us Enemy (OGN)
The Warning #9
Infinite Dark #8
Cyber Force #11
Delver Season One #5 (Comixology Original)
Outpost Zero #11
Jughead's Time Police #2
Black Badge #12
Sonata #2
Resonant #1
Joe Golem: Occult Detective–The Conjurors #3
Robyn Hood: Outlaw #6
Mary Shelley Monster Hunter #4
Ghost Tree #4
Evolution #17
Old Issue Rankings:
Critical Role: Vox Machina Origins II #1
Event Leviathan #2
Batman #74
Batman: Universe #1
War of the Realms Omega #1
Superman #13
Thor #15
Young Justice #7
The Walking Dead #193
Event Leviathan #1
Amazing Spider-Man #25
The Walking Dead #192 (50% off)
Avengers #21
Paper Girls #29 (50% off)
Paper Girls #28 (50% off)
Best Selling Collections & Graphic Novels:
Sandman Vol. 1: Preludes & Nocturnes (30th Anniversary Edition) (62% off)
Sandman Vol. 4: Season of Mists (30th Anniversary Edition) (62% off)
Sandman Vol. 5: A Game of You (30th Anniversary Edition) (62% off)
Sandman Vol. 8: World's End (30th Anniversary Edition) (62% off)
Sandman Vol. 7: Brief Lives (30th Anniversary Edition) (62% off)
Sandman Vol. 6: Fables & Reflections (30th Anniversary Edition) (62% off)
Sandman Vol. 2: The Doll's House (30th Anniversary Edition) (62% off)
Sandman Vol. 3: Dream Country (30th Anniversary Edition) (62% off)
Amazing Spider-Man by Nick Spencer Vol. 3: Lifetime Achievement (67% off)
Sandman Vol. 9: The Kindly One (30th Anniversary) (63% off)
Immortal Hulk Vol. 3: Hulk in Hell (67% off)
Sandman Vol. 10: The Wake (62% off)
Amazing Spider-Man by Nick Spencer Vol. 2: Friends and Foes (67% off)
Immortal Hulk Vol. 2: The Green Door (67% off)
Thor (2018) Vol. 2: Road to War of the Realms (67% off)
Avengers by Jason Aaron Vol. 3: War of the Vampires (67% off)
Avengers by Jason Aaron Vol. 2: World Tour (64% off)
The Sandman: Overture (71% off)
The Sandman: Endless Nights (62% off)
Death: The Deluxe Edition (75% off)
Marvels: The Remastered Edition (67% off)
Amazing Spider-Man by Nick Spencer Vol. 1: Back to Basics (67% off)
Lucifer: Book One (75% off)
Immortal Hulk Vol. 1: Or Is He Both? (67% off)
Uncanny X-Men (2018) Vol. 1: Cyclops and Wolverine (64% off)
Lucifer: Book Four (75% off)
Lucifer: Book Two (75% off)
Lucifer: Book Five (75% off)
Lucifer: Book Three (75% off)
Teenage Mutant Ninja Turtles Vol. 21 (74% off)
Fantastic Four (2018) Vol. 2: Mr. and Mrs. Grimm (67% off)
The Sandman: The Dream Hunters (62% off)
Fantastic Four (2018) Vol. 1: Fourever (67% off)
Justice League (2018) Vol. 2: Graveyard of Gods
Avengers: No Road Home (65% off)
East of West Vol. 9 (50% off)
Infinity Wars (65% off)
Die Vol. 1: Fantasy Heartbreaker (50% off)
Uncanny X-Men: X-Men Disassembled (60% off)
Gideon Falls Vol. 2: Original Sins (50% off)
Dead Man Logan Vol. 1: Sins of the Father (64% off)
The Wicked + The Divine Vol. 8: Old Is The New New (53% off)
Daredevil: Back in Black Vol. 8: The Death of Daredevil (62% off)
The Walking Dead Vol. 31: The Rotten Core (54% off)
Daredevil: Back in Black Vol. 7: Mayor Murdock (67% off)
Extermination (64% off)
The Books of Magic (62% off)
Saga Vol. 9 (50% off)
Spider-Gwen: Ghost-Spider Vol. 1: Spider-Geddon (67% off)
Old Man Hawkeye Vol. 2: The Whole World Blind (64% off)