Conan/Moon Knight/Solomon Kane/Dark Agnes Crossover For Marvel Comics' Serpent War
Jim Zub, the man who grabbed Conan in Avengers and ran with him, will be writing a new Marvel universe/Conan crossover series, using a few of Robert E Howard's other creations.
Conan: Serpent War is a four-issue series starting in December drawn by Scot Eaton and Stephen Segovia announced over at Comic Book. And will throw Moon Knight into the Robert E Howard mixture of Conan, Solomon Kane and Dark Agnes.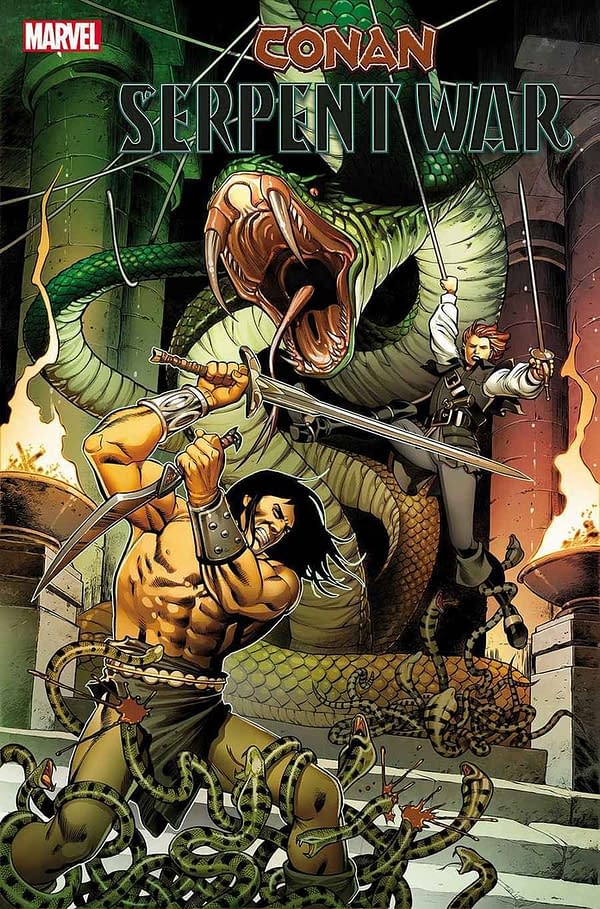 CONAN: SERPENT WAR #1 & #2 (OF 4)
JIM ZUB (W)
ISSUE #1 – SCOT EATON (A)
ISSUE #2 – STEPHEN SEGOVIA (A)
COVERS BY CARLOS PACHECO
ISSUE #1 VARIANT COVER BY NEAL ADAMS
ISSUE #1 VARIANT COVER BY INHYUK LEE
ISSUE #1 VIRGIN CONNECTING VARIANT COVER BY GIUSEPPE CAMUNCOLI (1 OF 4)
ISSUE #1 VARIANT COVER BY DAVID FINCH
ISSUE #1 STONE VARIANT COVER ALSO AVAILABLE
ISSUE #2 VARIANT COVER BY LUKE ROSS
ISSUE #2 VARIANT COVER BY JUNGGEUN YOON
ISSUE #2 VIRGIN CONNECTING VARIANT COVER BY GIUSEPPE CAMUNCOLI (2 OF 4)
"WARRIORS ACROSS TIME DEFY THE ELDER GODS!
JAMES ALLISON will soon die. But it's not his first death. He's lived many lives, in many places – lives he can recall in vivid detail. But when an Elder God called the WYRM reaches across time to James, an ages-spanning quest begins! The serpent god SET plans to usher in an eternity of darkness, and only the chosen warriors across time and space have a hope of stopping him: CONAN THE BARBARIAN, SOLOMON KANE, DARK AGNES, and the man known as MOON KNIGHT! In an unprecedented comics event, Robert E. Howard's characters join forces along with Marvel's Moon Knight, in an all-new saga built on REH and Marvel lore from across the ages!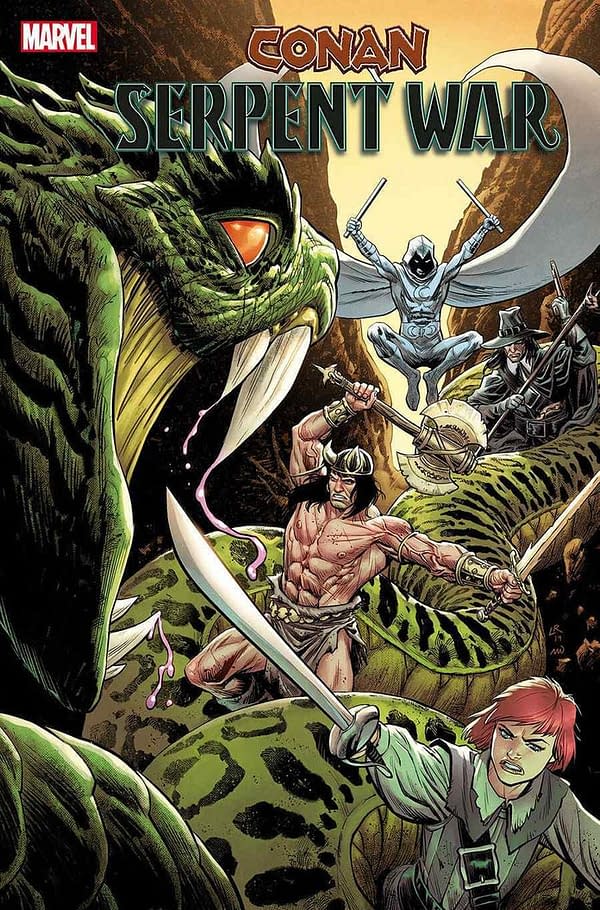 Jim Zub is quoted as saying,
"Serpent War is a sprawling cross-dimensional epic bringing together legendary characters from the mind of Robert E. Howard with a bit of Marvel mayhem added in for good measure… The story I told in Savage Sword was a straight forward sword & sorcery tale. This one is big, ambitious, and adventurous on a bigger stage. I hope Serpent War engages long-time Conan fans and also brings new readers on board to see what all the excitement is about… Moon Knight is our big Marvel wild card in all of this and I'm incredibly happy with how Marc Spector is woven into the big beats of the story and how Khonshu and the power of the moon factor into some of our biggest action scenes," Zub said. "When we were looking at which Marvel characters could be involved with the story we'd eventually call Serpent War and what their involvement would bring into the mix, Mark Basso introduced the idea of using Moon Knight and I instantly knew he'd be a great choice. Khonshu and Set have been at odds many times in the past and Moon Knight's troubled history gave us lots of interesting things to explore… Playing Moon Knight off of Solomon Kane is my favorite thing right now. It's a puritan with unwavering faith (despite never having interacted with God) set against an unhinged "heathen" (who speaks directly to his deity, yet doubts everything about himself and his place in the world). It's a study in contrast and they both bring cool things out of each other."
Solomon Kane is a late 16th–early 17th century Puritan who wanders the world with no apparent goal other than to vanquish evil in all its forms. His adventures, published mostly in the pulp magazine Weird Tales, often take him from Europe to the jungles of Africa and back.
A tall, sombre and gloomy man of pale skin, gaunt face and cold eyes, all of it shadowed by a slouch hat, he is dressed entirely in black and his weaponry usually consists of a rapier, a dirk, and a brace of flintlock pistols. During one of his later adventures his friend N'Longa, an African shaman, gave him a juju staff that served as a protection against evil but could easily be wielded as a weapon. It is revealed in another story, "The Footfalls Within", that this is the mythical Staff of Solomon, a talisman older than the Earth and unimaginably powerful, much more so than even N'Longa knew.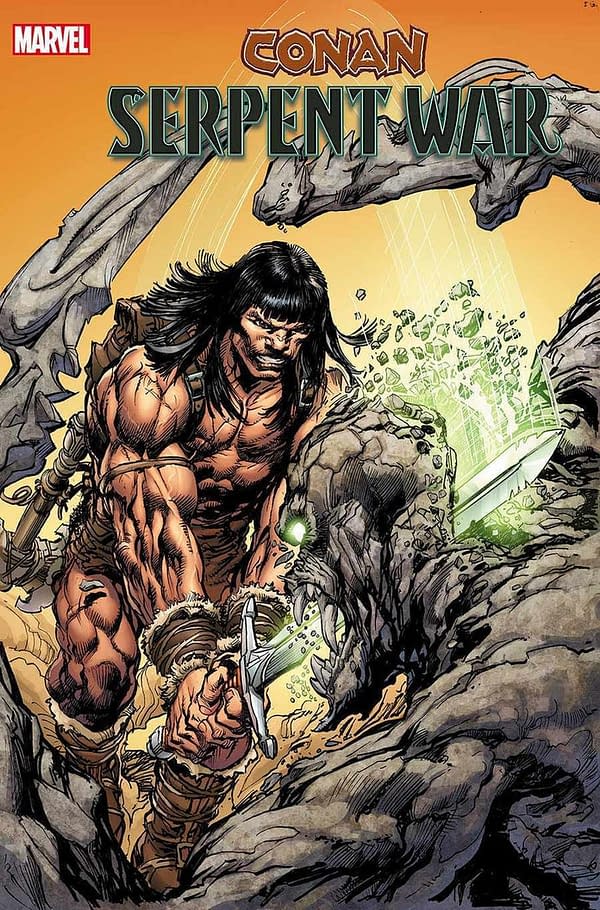 Dark Agnes de Chastillon was the protagonist of three stories set in 16th Century France, which were not printed until a long time after the author's death. The character of Agnes was beaten by her father and almost forced into an arranged marriage. She avoids this by killing the bridegroom and running away. She meets Etienne Villiers, who at first attempts to sell her to a brothel, and Guiscard de Clisson, a mercenary captain who trains her as a swordswoman. When de Clisson is killed, Agnes heads for Italy with Villiers.
Like the later character Red Sonja, who was based on another Howard character, Red Sonya of Rogatino, Agnes has red hair and a short temper. But while Red Sonja's skill in the handling of swords is a divine gift, Agnes's skill is a mixture of innate talent and training.
Marvel Comics published several comic books featuring Solomon Kane in the 1970s and 1980s. As with Conan, Dark Horse got the rights to publish Solomon Kane comic series. And now Marvel Comics has returned. And maybe Dark Agnes might make for a replacement for Red Sonja, as Dynamite Entertainment are currently telling her adventures..