Retailer Quits Phantom Group Over Concerns About Religious Content Of Jesus Island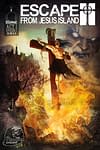 Bleeding Cool recently reported how the Phantom Group of retailers, which negotiate shared exclusive cover variants to be shared among themselves, had worked out a deal where they would receive a whole exclusive comic for a period of time, including an exclusive cover, and how the first of its kind would be Jesus Island.
As things are standing right now, it could well be its last.
Certain retailers have told the Phantom Group organisers that they will no longer be a member of the Phantom group, citing religious concern, offense and/or fear of public outrage over the books content. While they may have sold the likes of Preacher, Miniature Jesus, God Is Dead, Wormwood and Battle Pope, they had a choice to do so. Being a member of the Phantom group, even though they are not required to order the comic, might mean customers expect them to carry Jesus Island whether they wish to or not, or they feel they could be tainted merely by association.
The infamous Larry Dougherty of Larry's Comics and founder of the Phantom group told me "It doesn't really make sense to me that this should be a problem for anyone. Jesus Island actually acknowledges the existence and heritage of Jesus Christ and His works. It simply explores the possibility of science wreaking havoc with His DNA" and fellow co-founder Ralph DiBernardo of Jetpack Comics said "Of course we welcome of our member stores to stand up for their beliefs and to stock the items that they see fit. As a practicing Christian, I did not take offense to Jesus Island. I liken it to a cautionary tale of science gone awry and it's potential disastrous consequences. Just because science can do something, doesn't mean it has to."
While the stores leaving the Phantom Group are not going to be made public, I managed to work out that it was C n J Comics of Newark, California, Double Midnight Comics of Manchester, New Hampshire and Alpha Comics of Alberta, Canada. Others have just chosen not to participate.
Double Midnight Comics wanted to distinguish its decision however, saying;
I wish I could give you a great headline like "Double Midnight leaves Phantom Group in protest of Jesus Island" but the truth is the books just haven't been doing as well for us, I don't know if it was due to too many books being done or being in the same region as Larry & Jetpack but for us the brand had cooled down since last year so we just decided to take a break from it
UPDATE: Alpha Comics also stated "The program started off strong but sales are no longer high enough to support Phantom anymore. The notion that Alpha left the group due to fear of public outrage over the books content is absurd and baseless." Other stores weren't so lucky.
You know, if any stores actually want to join, they could probably email larryscomicsinc@aol.com. They seem to have a few free slots. And any creators wanting to participate with Phantom First Friday, possibly with no crucifixions on the cover, should contact info@jetpackcomics.com