Cosplay ≠ Consent (UPDATE)
[youtube]https://www.youtube.com/watch?v=0WcR7fZ4SYI[/youtube]
Comic-Con International have been asked to make their any harassment policies more explicit rather then the general catch-all language they use at San Diego Comic Con.
"Code of Conduct Attendees must respect common sense rules for public behavior, personal interaction, common courtesy, and respect for private property. Harassing or offensive behavior will not be tolerated. Comic-Con reserves the right to revoke, without refund, the membership and badge of any attendee not in compliance with this policy. Persons finding themselves in a situation where they feel their safety is at risk or who become aware of an attendee not in compliance with this policy should immediately locate a member of security, or a staff member, so that the matter can be handled in an expeditious manner."
We're asking Comic Con San Diego to include the following in a formal anti-harassment policy:

–A harassment reporting mechanism and visible, easy to find on-site support for people who report harassment;

–Signs throughout the convention publicizing the harassment policy and zero-tolerance enforcement mechanisms;

–Information for attendees on how to report harassment; and

–A one hour training for volunteers on how to respond to harassment reports.
Currently they have refused, stating that the current language is sufficient and that highlighting it further might risk defining the show by the problems it seeks to rectify.
Nevetheless, it was done unofficially. At the show, while there were no official signs, people placed Cosplay ≠ Consent photocopies on the tops of refuse bins, on booths, on people, with corresponding social media links.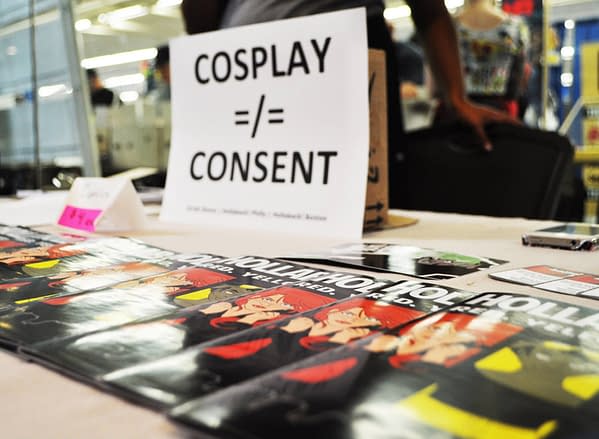 So what happened in action?
We have Model Adriane Curry on TMZ talking about attacking a creep who assaulted a cosplaying friend of hers at San Diego Comic Con.
Criticising the male onlookers,
I was disappointed with the lack of reaction from the men. Here are women screaming and defending themselves and all the guys are like 'Look at that, that chick just got molested, cool, right on.' Step up gentlemen, because chicks are gonna stop portraying cosplay characters if you don't do something.
And telling us,
I beat the shit out of his face with the butt of my whip …..which is a real bullwhip.
The cosplayer in question has talked about her experiences.
YESTERDAY, myself, dressed as Tigra, was with the above-mentioned friends and we were all in the super crowded San Diego Comic-Con International Gaslamp area taking photos with #SDCC peeps and fans. Some total A$$H0LE came up behind me and tried to stick his hands in my bottoms and then yanked my tail and pants down.

I just freaked out, screamed trying to keep my bottoms up — but Adrianne Curry literally took off after dude WITH her Catwoman whip and chased him down, beat his ass. Punched him across the face with the butt of her whip — he had blood on his face – got on her costume. Katrina got in his face, Todd shoved him, the guy ran off – huge ruckus and yep some people got their cell phones out of course.

I was very VERY upset because as many times as I have attended #SDCC, I have never experienced this behavior. Just the day before, one of the Trek Bunnies, Amanda Orion) had to have a guy kicked out of the con for being lewd and disgusting and shoving his camera lens between our legs when 3 of us were walking out.
As unpleasant as this is, it gets more disturbing, as a note was distributed widely,
One of my dearest friends was found on the side of the road, unconscious and bloody. She was wearing this cosplay on the day it happened. She was last seen with friends when she ran off after a disagreement. Please, please, please, if you have ANY information or saw her anywhere, contact her mother. The full information is down below. This isn't okay and it's sickening to know that this happened at a place people truly can enjoy themselves. Please spread the word.
People responded, which led to a San Diego Police Report saying,
Harbor Police arrested a 29-year-old man early Sunday morning, July 27th in a hotel at 333 West Harbor Drive. He was booked into San Diego County Jail at 11:20 am on charges of sexual contact with a minor and contributing to the delinquency of minor. The victim, a juvenile female, was transported to a hospital for evaluation and treatment. The Harbor Police Investigations Unit is handling the incident. This investigation is ongoing.
And that the young woman is currently in intensive care with a brain bleed.
This is where we are now. An utter disrespect by some for cosplayers that sees them treated in a completely dehumanised way. That's the context in which people are making such appeals or shows such as San Diego Comic Con to publicly condemn such activity and take steps to prevent such actions that could lead to greater ones.
It's the Zero Tolerance route and it looks like it may be more necessary than ever. Because things aren't getting better, they are getting worse…
UPDATE: Krypton Radio reports, regarding the last point:
We've just received an update from San Diego Harbor Police Public Information Officer, Tanya Castaneda, on the investigation into the case of a 17 year-old cosplayer who was found unconscious in the pool area of the Marriott Marquis hotel, shortly after 1 a.m. on Sunday, July 27, 2014. This corrects earlier information that erroneously stated that the victim was found "on the street." The young woman was still wearing the "female Roger Rabbit" costume she had been seen wearing inside San Diego Comic-con during the day on Saturday.

The victim was transported to the hospital for evaluation and treatment. Her mother has since posted on social media that the victim has regained consciousness, and earlier today, "A better day … each day she is getting better."

The SDHP statement says that their investigation included "a review of footage from multiple surveillance cameras, as well as the assistance of community members and Comic-Con attendees who provided extensive information and sent photographs for review. The investigation concluded with a finding that the juvenile female's injuries were not the result of a criminal assault, and were likely the result of a fall. Her injuries, and physical evidence at the scene, were consistent with a fall from the distance of approximately six feet."

With regard to the man arrested early Sunday morning, "This finding does not affect the charges against the 29-year-old male, which will be forwarded to the District Attorney's Office. Because this case involves a minor, no further information will be released about this incident." The suspect was booked on charges of sexual contact with a minor and contributing to the delinquency of a minor.