 I devoured books left and right as a kid. The bigger and more colorful the images, the better. The one that always kept me occupied was Where's Waldo? (or as you foreigners call it, Where's Wally?), because while my eyes were sharp as a hawk, sometimes I could never find those darn scrolls. It was a maddening-yet-fun hunt throughout time and space, and my parents loved it because I was planted in one place instead of running around with my homemade swords (railroad tracks, sticks, rectangular building blocks). That's the sign of a good book for today's category, Best Publication for Early Readers (up to age 7): keeping the reader entertained with a story that's easy to follow, and art that prompts inspiration.
Keep in mind I cannot vote for who wins (nor can you, probably), as per the rules. However, that's not keeping me from being vocal regardless!
Who is eligible to vote?
Comic book/graphic novel/webcomic creators (writers, artists, cartoonists, pencillers, inkers, letterers, colorists
All nominees in any category
Comic book/graphic novel publishers and editors
Comics historians and educators
Graphic novel librarians
Owners and managers of comic book specialty retail stores
Who is not eligible to vote?
Comics press or reviewers (unless they are nominees)
Non-creative publisher staff members (PR, marketing, assistants, etc.)
Fans
Before I get back to writing Richie Rich Johnston & The Incredibly Hungry Gossip Blog so I can be eligible for next year, let the games begin!
Best Publication for Early Readers (up to age 7)
BirdCatDog, by Lee Nordling & Meritxell Bosch (Lerner/Graphic Universe)
Three different heroes, three different stories. Every page consists of three different stories, and it's up to the reader to choose their own adventure. Across the top of the page is the little bird's adventure, the middle of the page the cat's, and the bottom of the page the dog's. One can read it whichever way they choose. With a great color scheme for each character, kids will no doubt have fun taking the same adventure through three different perspectives. Very clever set-up and execution from Nordling and Bosch.
A Cat Named Tim And Other Stories, by John Martz (Koyama Press)
Comprised of a colorful cast of characters, each one has their own type of unique story (or a series of them) best suited to their personality. Doug (a duck) and Mouse go on an adventure comprised of planes, canoes, and automobiles that takes them throughout nature. Tim (a cat) seems to be suited for every kind of job imaginable, and loves sports. Connie is a whiz kid, able to create anything while maintaining a busy schedule, and Mr. and Mrs. Hamhock (pigs) seem to be a little, um, forgetful. A very enjoyable read, kids no doubt will have fun with Martz's creations.
Hello Kitty, Hello 40: A Celebration in 40 Stories, edited by Traci N. Todd & Elizabeth Kawasaki (VIZ)
Review copy unavailable.
Mermin, Book 3: Deep Dives, by Joey Weiser (Oni)
Mermin takes his friends from the surface to visit the underwater kingdom of Mer and meet his royal family. Having to deal with an unexpected stowaway and some patrolling hostile Atlanteans before finally arriving to Mer, things seem to go from bad to worse for Mermin as more of his past comes to light, as well as accidentally putting his friends in harm's way with some of the seedy locals. Weiser's illustrations are lighthearted and beautiful, depicting a colorful cast of characters, as well as the underwater environment.
The Zoo Box, by Ariel Cohn & Aron Nels Steinke (First Second)
When their parents go out and leave them alone for the night, Erika and Patrick play dress-up in the attic. After discovering a box hidden away under the bed, they open it and discover it's packed with animals of all shapes and sizes. As they follow the animals into the woods, they discover a zoo of a different kind—one filled with humans on display. It's up to them to make it back home before being caught and added to the zoo. A fun romp, Cohn and Steinke definitely bring an exciting story any young reader would love.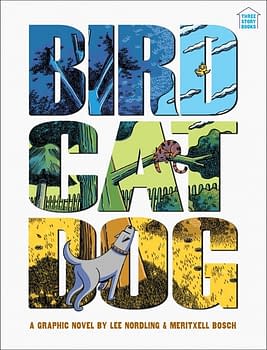 Who I think should win:
BirdCatDog, by Lee Nordling & Meritxell Bosch (Lerner/Graphic Universe)
The thing I really enjoyed about this book was the way it was formatted, giving the reader three different stories to choose from, where the hero is different in each one. That introduces the idea of perception, and encourages them to look at the world just a little bit differently. The fact that it's all art and no dialogue also impresses me, for language then doesn't become a barrier and it can be shared in local libraries, classrooms, etc.
Who I think will win:
The Zoo Box, by Ariel Cohn & Aron Nels Steinke (First Second)
Cohn's story and Steinke's art is an impressive combination, and the way they format the journey is really exciting. I wasn't sure if Erika and Patrick were going to escape or not, and then putting the reader in the animal's shoes when it comes to living in captivity can definitely be eye-opening to some of the younger readers. It also had a little taste of Jumanji in there, but kids probably don't remember that book or movie.
Who I think should have been nominated:
Adventure Time Volume 4, by Ryan North, Braden Lamb, and Shelli Paroline (BOOM! Studios / KaBOOM!)
For kids and parents who love the show comes the perfect comic starring the loveable Finn & Jake. Tons of laugh-out-loud moments accompanied by simple-yet-beautiful art, guaranteed to make any young reader squeal with delight.
Who do you think should win / been nominated?
Cameron Hatheway is a reviewer and the host of Cammy's Comic Corner, an audio podcast. You can grow jelly of his Reading Rainbow mug on Twitter @CamComicCorner.
Enjoyed this article? Share it!