 Surely we all remember what it was like to be a teenager. We were young, invincible know-it-alls that refused to be put in the mold society had picked out for us. We were rebels without causes, and no one could possibly understand how we felt because we were the only ones to ever struggle with these feelings and emotions (and hormones). To us, becoming an adult was a death sentence, and if given the opportunity we would choose skateboarding and reading comics over doing chores. Ah, what a life! In case you didn't catch-on because you have the attention span of a teenager, the category I'm focusing on today is Best Publication for Teens (ages 13-17).
Keep in mind I cannot vote for who wins (nor can you, probably), as per the rules. However, that's not keeping me from being vocal regardless!
Who is eligible to vote?
Comic book/graphic novel/webcomic creators (writers, artists, cartoonists, pencillers, inkers, letterers, colorists
All nominees in any category
Comic book/graphic novel publishers and editors
Comics historians and educators
Graphic novel librarians
Owners and managers of comic book specialty retail stores
Who is not eligible to vote?
Comics press or reviewers (unless they are nominees)
Non-creative publisher staff members (PR, marketing, assistants, etc.)
Fans
Before I get back to writing the Katy Perry biographical comic, Teenage Dream, so I can be eligible for next year, let the games begin!
Best Publication for Teens (ages 13-17)
Doomboy, by Tony Sandoval (Magnetic Press)
A metal-head from a small seaside town loses his girlfriend suddenly, and has a deep hole in his chest because of it. D, or Doomboy, soon becomes an outcast in the local music scene, and takes to playing his heart out on the beach while a friend records his sessions. His intended audience? His dead girlfriend. Who hears it instead? Everyone with a radio. Doomboy becomes a celebrity and doesn't even know it, and has to struggle with playing the perfect session for his late beloved. A great story about teenage angst, accompanied by an epic-angsty illustration style.
The Dumbest Idea Ever, by Jimmy Gownley (Graphix/Scholastic)
Review copy unavailable.
Lumberjanes, by Shannon Watters, Grace Ellis, Noelle Stevenson, & Brooke A. Allen (BOOM! Box)
A troop of Lumberjanes (think Girl Scouts) find themselves encountering the strangest creatures and monsters at Miss Quinzella Thiskwin Penniquiqul Thistte Crumpet's Camp for Hardcore Lady Types. Adventuring throughout the woods, they come across clues to a much bigger cosmic plan at work, involving yetis, three-eyed foxes, raptors, and a Bear Woman. Filled with action and humor, Watters, Ellis, Stevenson, and Allen bring the reader to the extreme great outdoors, wishing summer camp never ends.
Meteor Men, by Jeff Parker & Sandy Jarrell (Oni)
Alden is an introverted teenager who recently lost both his parents to a drunk driver, and lives on the old family farm. He has no problem allowing the locals to come out to his plot of land to watch the Perseid meteor shower, until the spectacle literally hits close to home. Meteorites have been landing all across the world, leaving scientists baffled at the event. What's even more baffling is the following day the meteorite that landed in the creek split into two, revealing a hollow, smooth center like some sort of geode. Was it a ball of gas inside that cracked the meteorite, or something else? Great alien-invasion story with a twist from Parker and Jarrell.
The Shadow Hero, by Gene Luen Yang & Sonny Liew (First Second)
Set during WWII, a young Chinese American immigrant named Hank helps his father run a local grocery store called the Jade Turtle. When his overbearing mother is one day rescued by a superhero, she's determined to transform her son into one since she considers her husband a failure and a coward. Her husband has been protected all this time by an ancient turtle spirit from China, and after he's murdered the spirit makes a deal with Hank to be impervious to bullets. Gifted with this new protection and superb fighting skills, it's up to Hank to takedown the gang that killed his father and get justice. A great revamp/expansion of a long forgotten character by Yang and Liew.
The Wrenchies, by Farel Dalrymple (First Second)
Gangs of kids are the main inhabitants of this world, and when they reach a certain age they're stolen away by the Shadowsmen and join their undead ranks. Not the Wrenchies though, for they're a group comprised of the brightest and bravest who don't give a crap about being targeted by the Shadowsmen until they ultimately are, then they're forced to seek out the Scientist; a professor trapped in a mechanical golem body. Dalrymple truly boosted his creative juices to overdrive in his sci-fi magnum opus.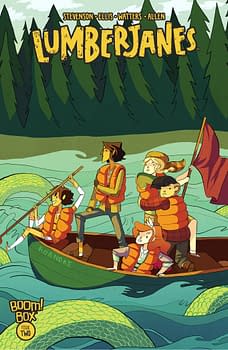 Who I think should win:
Lumberjanes, by Shannon Watters, Grace Ellis, Noelle Stevenson, & Brooke A. Allen (BOOM! Box)
It's almost as if this series was created for this category, because it fits it perfectly like a jigsaw piece. Seeing the strong bond between April, Ripley, Molly, Mal, and Jo as they tackle every obstacle and mystery thrown at them during summer camp is incredibly fun, and makes you wish summer (aka this series) would never end. It's not just about a group of Lumberjanes acquiring different merit badges at camp, it focuses on discovering oneself and knowing what you're truly made of in times of crisis. Oh and tons of friendship.
Allen's illustrations fit beautifully with the fun, rambunctious tone of the book and characters. After this series wins the Eisner, I hope it gets adapted to the big screen because it's a perfect candidate.
Who I think will win:
The Wrenchies, by Farel Dalrymple (First Second)
It took five years for Dalrymple to complete this dystopian masterpiece, and his heart and soul can definitely be both seen and felt on every page. With a beautifully gritty style and incredibly imaginative story throughout, there's no other graphic novel like it. The world is rich in both details and history, making sense of the characters and situations in its own unique way.
The journey and destination are quite incredible, for Dalrymple's art stylings are incredible in their own rights. A teen reader will pick this graphic novel up and relate to the characters and situations, without explanation of how. They'll just know deep down that they do.
Who I think should have been nominated:
In Real Life, by Cory Doctorow & Jen Wang (First Second)
It's a perfect read for teens, and really brings to life a discussion about female gamers, the political and economic problems of gold farming, and what the future of online video games holds. The art is simply incredible, and can be appreciated by everyone, whether they've actually played an MMORPG or not. There's a reason First Second has a few nominees in this category; they continuously kick major butt when it comes to producing quality comics for every demographic.
Who do you think should win / been nominated?
Cameron Hatheway is a reviewer and the host of Cammy's Comic Corner, an audio podcast. You can tell him he smells like teen spirit on Twitter @CamComicCorner.
Enjoyed this article? Share it!