by Cameron Hatheway

It's a sometimes confusing time to be a kid; they see themselves as too old to be reading children books, but not quite there yet with the more young adult selections. Caught in a prepubescent limbo of sorts, they're usually open to read anything put in front of them, but at the same time very vocal if they perceive the selection as beneath them. Before they reach those terrible teens and become completely fiercely hormonal and independent, now's your last chance to try and read something together. With that being said, today I'll be focusing on the Best Publication for Kids (ages 8-12) category. If you need a reminder of what's been nominated, you can find the entire list right here, and see what I chose last time right here.
Keep in mind I cannot vote for who wins (nor can you, probably), as per the rules. However, that's not keeping me from being vocal regardless!
Who is not eligible to vote?
Comics press or reviewers (unless they are nominees)
Non-creative publisher staff members (PR, marketing, assistants, etc.)
Fans
Before I get back to work on illustrating my How To Train Your Savage Dragon graphic novel so I can be eligible for next year, let the games begin!
Best Publication for Kids (ages 8-12)
Adventure Time, by Ryan North, Shelli Paroline, and Braden Lamb (kaboom!)
A wonderful comic spin-off from the animated show, Adventure Time offers great fun for diehard fans and casual observers alike. Featuring a main story that spans several issues (first being about the Lich King, the second revolving around time travel) and several back-ups by a whole roster of talented individuals, this series is totally mathematical for readers of all ages. Be sure to look carefully for Ryan North's commentary at the bottom of almost every page.
Amulet Book 5: Prince of the Elves, by Kazu Kibuishi (Scholastic)
Review copy unavailable.
Cow Boy: A Boy and His Horse, by Nate Cosby and Chris Eliopoulos (Archaia)
Boyd Linney is a ten-year old bounty hunter in the Old West, trying to wrangle-up his own crooked kin. For "Justice ain't got no age," and Boyd's determined to see to it that every yellow-bellied possum of an outlaw that he calls 'family' is delivered straight to the clinker, and he collects the bounty. Eliopoulos' art is very reminiscent of Bill Watterson and Charles Schultz, which makes you feel all warm and nostalgic on the inside.
Crogan's Loyalty, by Chris Schweizer (Oni)
Review copy unavailable.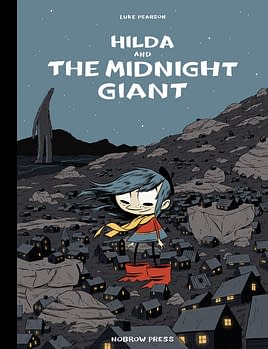 Hilda and the Midnight Giant, by Luke Pearson (Nobrow)
Hilda and her mother are being bombarded by invisible little elves who want them to move away and out of the cabin they reside in. After being visited by one of the elves and signing some official paperwork, Hilda discovers the magical unseen kingdom of the elves that resides just outside her door. To make things even more complicated, she's been seeing a giant lurking outside at night.
Road to Oz, by L. Frank Baum, adapted by Eric Shanower and Skottie Young (Marvel)
Dorothy walks the long way from Kansas to Oz, picking up a new band of misfits along the way. It's Princess Ozma's birthday soon, and it seems like everyone Dorothy meets on her journey wants an invitation to the royal ball. Adapted from the Frank L. Baum book of the same title, Shanower and Young continue bringing their A-games to the cherished children's saga with so much love and pizazz.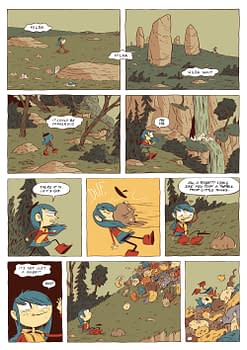 Who I think should win:
Hilda and the Midnight Giant, by Luke Pearson (Nobrow)
Even though this is Pearson's second Hilda title, I would have never of guessed it when reading The Midnight Giant. We're immediately introduced to Hilda and her mother as if we've known them for years, and the next thing you know we're trying to help them figure out who has been leaving tiny eviction notices and throwing stones through their windows. The world Pearson has created is an exciting and magical one, reminding me slightly of Hayao Miyazaki with bits of Brandon Graham.
Oh, and did I mention there's been a wandering giant that only Hilda seems to see? Elves, giants, and Woffs make this graphic novel a very enjoyable one for parents and kids alike. I eagerly await to see what adventure Hilda embarks on next.
Who I think could win:
Cow Boy: A Boy and His Horse, by Nate Cosby and Chris Eliopoulos (Archaia)
Upon reading Cow Boy by Nate Cosby and Chris Eliopoulos, I was hooked from title page alone. If it's one thing that gives a Western that authentic feel, it's the language. The vocabulary morphs that voice in your head as being read by Sam Elliot, and you're mentally chewing on cud in between word balloons.
However, with the protagonist Boyd Linney being ten-years old, a prepubescent Sam Elliot comes to mind instead, and makes me laugh just imagining it.
Who I think should have been nominated:
Liō: There's a Monster in My Socks, by Mark Tatulli (Andrews McMeel)
Who do you think should win / been nominated?
Cameron Hatheway is the host of Cammy's Comic Corner and Arts & Entertainment Editor of the Sonoma State STAR. You can warn him of any invisible elves on Twitter @CamComicCorner.
Enjoyed this article? Share it!