Writer Cullen Bunn, artist Andy MacDonald, and colorist Nick Filardi are teaming up for a new series at Oni Press called Rogue Planet, about a crew of space treasure hunters that encounter "something nightmarish" on a planet called Lonely Orphan. The series is set to kick off in April, and an Oni press release provides more details:
Salvage vessel Cortes tracks the Lonely Orphan, a planet with no star system to call its own. Somewhere on this hostile rock is a payload fit for a king. To attain it, though, the crew of the Cortes must brave razor rock, poisonous vapors, treacherous footing, and… the most mind-numbing horrors imaginable. Something nightmarish is at work on Lonely Orphan. Something cruel. Something hungry.
Bunn, whose excellent creator-owned series The Sixth Gun was also published by Oni Press, said:
Rogue Planet is a book I've been working on for quite a while, a sci-fi horror story that really digs into my roots as a horror fan. I remember where I was sitting when I first wrote the title down–I was having coffee with my pal and frequent collaborator Brian Hurtt at Powell's Books–and I couldn't stop thinking about the possibilities. I spent a while kicking ideas around, and I came up with a chilling notion that I absolutely loved. It took a while to find the right artist, and I was so thrilled when Andy came on board to draw this title. I've been a fan of his work for so long. He really sold the hostility of the setting, the ghastliness of the horrors our intrepid heroes encounter. And then Nick took Andy's pages and told stories with the colors. I cannot wait for readers to see this book. There are terrors to be discovered and mysteries to be revealed, if you have the stomach for it.
MacDonald added:
Rogue Planet was an amazing opportunity for me to work with comic greats Cullen Bunn and Nick Filardi in the sci-fi horror genre that I truly love! It's also the most difficult project to work on due to bouts of mind-bending fright-paralysis induced from the countless horrors Cullen's spectacularly chilling script commanded I confront and draw. Stalwart champion of color and fearless comics comrade, Nick Filardi was there to bring beautiful and horrifyingly-vivid color to a project that I was too full of panicked dread to draw without peaking through one shaking hand!
Rogue Planet #1 hits stores on April Fools Day.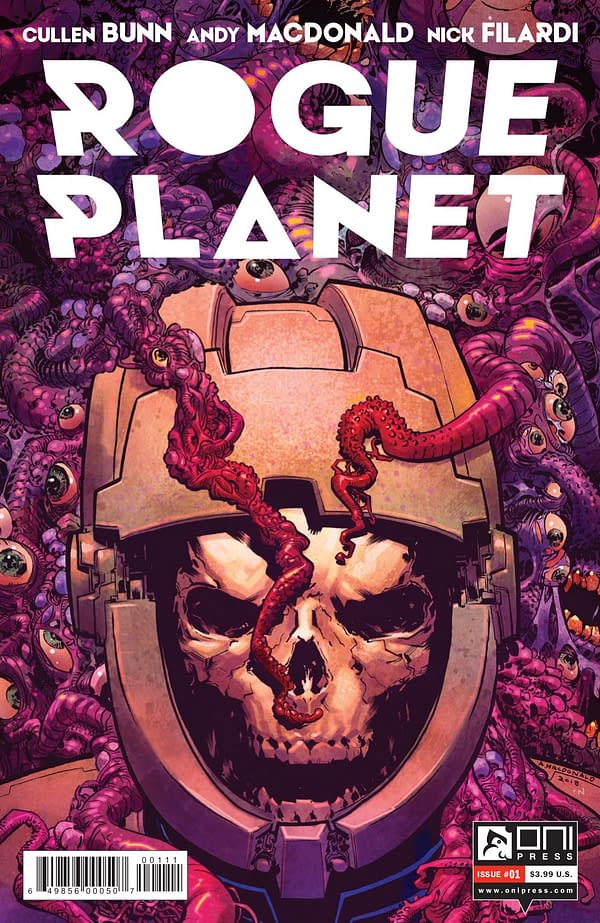 Enjoyed this article? Share it!