Dan DiDio may no longer be Publisher of DC Comics – we explained why here late last night. But he wasn't just DC Publisher, he was also the writer of the series Metal Men, drawn by Shane Davis. Issue 5 has just been published by DC Comics – but what else is to come?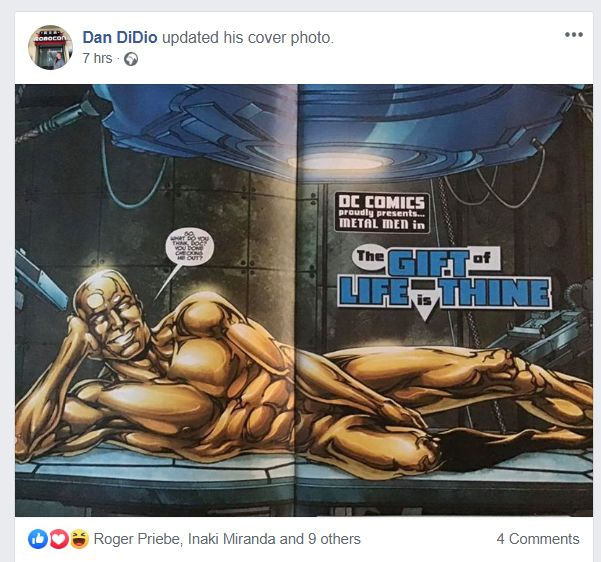 Well, artist on the series Shane Davis, has kept everyone up to date.
Had a good talk today with Dan about Metal Men. It will finish up with issue 12 as planned. Already working on issue 9.

— Shane Davis (@shanedavisart) February 22, 2020
Looks like DC won't be getting rid of DiDio entirely for a few remaining months. I wonder how editor Jessica Chen is going to cope with the new power dynamic? Metal Men #6 will be published in March. Halfway there…
METAL MEN #6 (OF 12)
(W) Dan DiDio (A/CA) Shane Davis, Michelle Delecki
After Platinum finds out that she is based on a real woman Magnus used to know in college, she sneaks away to search for her human counterpart…and learns the twisted reason for why she "loves" Magnus so much. Meanwhile, back at Magnus Mountain, Nth Metal Man seems to have some bigger plans of his own with someone else from the Dark Multiverse…In Shops: Mar 18, 2020 SRP: $3.99

METAL MEN #7 (OF 12)
(W) Dan DiDio (A/CA) Shane Davis, Michelle Delecki
What's this? There's an entire new group of Metal Men, except they're not metal…or men…but…animals?! After the Metal Men left Magnus for Nth Metal Men, Magnus knew the next team he created had to be loyal-and what's more loyal than animals, right? All this, plus the new Metal Men face the Missile Men in their first epic battle since their conception.In Shops: Apr 15, 2020 SRP: $3.99

METAL MEN #8 (OF 12)
(W) Dan DiDio (A) Michelle Delecki (A/CA) Shane Davis
With the new Animal Gas Gang united under Magnus, the Metal Men are eager to see what their freedoms bring- but at an amusement park they quickly learn that life is a disappointing rollercoaster ride. Meanwhile, back in New York City, Chemo wreaks havoc in Times Square, and when Magnus's animals fail to save the city, the Metal Men must decide whether they want to return to Magnus' side-or not!In Shops: May 20, 2020 SRP: $3.99
Enjoyed this article? Share it!