Writer and former IDW editor Dan Taylor has launched a new Kickstarter for a science-fiction noir robotic detective story called Pi Private Eye: The Immortal Coil. Dan has totally embraced the Pi part of the title, launching the campaign on Pi Day (March 14th) and stating that the project is a novella that will clock in at 31,415 words. Below Dan talks about the new project and gives a link where you can read the first chapter for free. The image to the right is done by Transformers artist Don Figueroa as an early design concept for the character.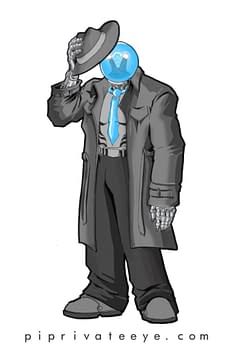 Taylor writes:
Pi Private Eye: The Immortal Coil is a science-fiction noir robotic detective story set in an alternate futuristic past of Los Angeles–perhaps an inspired brainchild from a chance meeting between Ray Bradbury and Raymond Chandler.
Pi is one of 24 sentient Automatrons living in Los Angeles recently recognized as an individual with rights and granted citizenship through the Automatron Assimilation Amendment. Artificial intelligent constructs of measurable independent will were imbued with rights and freedoms similar to their human counterparts. All to better serve society. But society has a way of bucking change. Someone is murdering the Automatrons of Los Angeles. Having been relieved of his duty as an LAPD officer, Pi now works as an independent private investigator specializing in Automatron matters. Now he finds himself searching for the identity of the "bot killer" before he becomes the next victim.
Why a novella? In keeping with the theme of "π," the story wordcount target is 31,415. (I might get "cute" and throw in 9/10 of a word.) According to the Science Fiction and Fantasy Writers of America and the World Science Fiction Society, my target wordcount would classify Pi Private Eye: The Immortal Coil as a novella. So, I'm calling it a novella.
A strong start is important for these sort of campaigns, so if you were considering backing my latest endeavor I urge you to do so sooner than later. Some of you are rather influential with your endorsements. If pledging isn't your thing, no worries. A shout-out on your favorite social media platform would be much appreciated.
You can read the first chapter online here, and find the Kickstarter campaign here.
Thank you for your support.
Enjoyed this article? Share it!