Dark Knight Tops Advance Reorders With Rafael Grampa
Greetings from the coal face of the direct comics market. Where retailers try to increase their orders of certain comics ahead of sale. Where supply and demand and most accurately reflected, where you can see which books are hot, where new orders are coming in and how retailers are reacting to new, unanticipated desire! And courtesy of stats from Diamond Comic Distributors.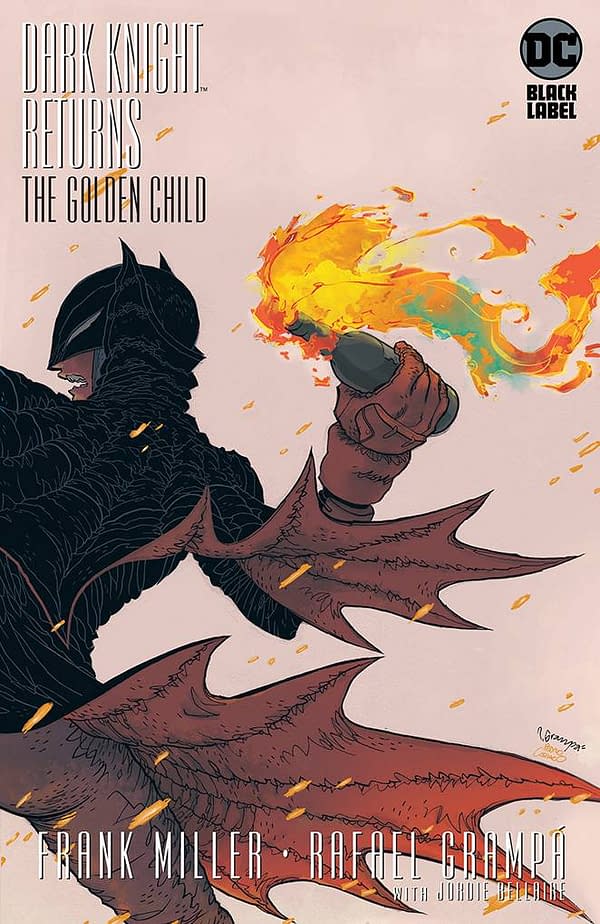 A new cover for The Dark Knights Returns: The Golden Child, pushed that title to the top this week,and the new acetate cover to the Harleen hardcover collection got lots of retailers excited too. As does a little Kevin Eastman magic for the Power Rangers/Turtles crossover. After that it's just HOXPOX as far as the eyes can see.
TOP 25 ADVANCE REORDER COMICS/GRAPHIC NOVELS/TPS
| | | |
| --- | --- | --- |
| DESCRIPTION | SRP | VENDOR |
| DARK KNIGHT RETURNS THE GOLDEN CHILD #1 RAFAEL GRAMPA VAR ED | $5.99 | DC COMICS |
| HARLEEN HC (MR) | $29.99 | DC COMICS |
| POWER RANGERS TEENAGE MUTANT NINJA TURTLES #1 FOC VAR | $4.99 | BOOM ENTERTAINMENT |
| X-FORCE #3 DX | $3.99 | MARVEL COMICS |
| X-FORCE #1 2ND PTG CAMUNCOLI VAR DX | $4.99 | MARVEL COMICS |
| EXCALIBUR #1 2ND PTG CAMUNCOLI VAR DX | $4.99 | MARVEL COMICS |
| POWER RANGERS TEENAGE MUTANT NINJA TURTLES #1 CVR A MORA | $4.99 | BOOM ENTERTAINMENT |
| UNDISCOVERED COUNTRY #1 2ND PTG (MR) | $3.99 | IMAGE COMICS |
| SYMBIOTE SPIDER-MAN ALIEN REALITY #1 (OF 5) BLACK BLANK VAR | $4.99 | MARVEL COMICS |
| TALES FROM THE DARK MULTIVERSE THE JUDAS CONTRACT #1 | $5.99 | DC COMICS |
| POWER RANGERS TEENAGE MUTANT NINJA TURTLES #1 BLANK | $4.99 | BOOM ENTERTAINMENT |
| NEW MUTANTS #1 2ND PTG CAMUNCOLI VAR DX | $4.99 | MARVEL COMICS |
| NEW MUTANTS #3 DX | $3.99 | MARVEL COMICS |
| X-MEN #5 DX | $3.99 | MARVEL COMICS |
| STAR WARS #1 | $4.99 | MARVEL COMICS |
| THOR #1 | $4.99 | MARVEL COMICS |
| FALLEN ANGELS #3 DX | $3.99 | MARVEL COMICS |
| CAPTAIN MARVEL #13 | $3.99 | MARVEL COMICS |
| BATMAN #84 | $3.99 | DC COMICS |
| SPIDER-MAN 2099 #1 | $4.99 | MARVEL COMICS |
| LEGION OF SUPER HEROES #2 | $3.99 | DC COMICS |
| POWER RANGERS TEENAGE MUTANT NINJA TURTLES #1 CVR B MONTES | $4.99 | BOOM ENTERTAINMENT |
| MARAUDERS #5 DX | $3.99 | MARVEL COMICS |
| VENOM #19 2ND PTG COELLO VAR AC | $3.99 | MARVEL COMICS |
| IMMORTAL HULK #28 | $3.99 | MARVEL COMICS |
TOP 25 REORDER COMICS/GRAPHIC NOVELS/TPS
| | | |
| --- | --- | --- |
| DESCRIPTION | SRP | VENDOR |
| BATMAN BY SNYDER & CAPULLO OMNIBUS HC VOL 01 | $125.00 | DC COMICS |
| LUCIFER OMNIBUS HC VOL 01 (MR) | $125.00 | DC COMICS |
| FRANK MILLERS BIG DAMN SIN CITY HC (C: 0-1-2) | $100.00 | DARK HORSE COMICS |
| CRITICAL ROLE TP VOL 01 VOX MACHINA ORIGINS (C: 0-1-2) | $19.99 | DARK HORSE COMICS |
| SAVAGE SWORD CONAN ORIG MARVEL YRS OMNIBUS HC VOL 02 STARLIN | $125.00 | MARVEL COMICS |
| UZUMAKI 3IN1 DLX ED HC JUNJI ITO (MR) (C: 1-0-0) | $27.99 | VIZ LLC |
| CRISIS ON INFINITE EARTHS HC BOX SET | $500.00 | DC COMICS |
| HARLEEN #2 (OF 3) (MR) | $7.99 | DC COMICS |
| SIXTH GUN DLX ED HC VOL 06 | $59.99 | ONI PRESS INC. |
| JOKER KILLER SMILE #1 (OF 3) (MR) | $5.99 | DC COMICS |
| TALES FROM THE DARK MULTIVERSE DEATH OF SUPERMAN #1 | $5.99 | DC COMICS |
| SPIDER-MAN LIFE STORY TP | $24.99 | MARVEL COMICS |
| HARLEEN #2 (OF 3) VAR ED (MR) | $7.99 | DC COMICS |
| BATMAN WHO LAUGHS HC | $29.99 | DC COMICS |
| BASKETFUL OF HEADS #1 (OF 6) (MR) | $3.99 | DC COMICS |
| NEW MUTANTS #1 DX | $4.99 | MARVEL COMICS |
| DCEASED #6 (OF 6) CARD STOCK HORROR VAR ED | $5.99 | DC COMICS |
| X-MEN AGE OF APOCALYPSE OMNIBUS HC NEW PTG | $125.00 | MARVEL COMICS |
| SMASHED JUNJI ITO STORY COLLECTION HC (MR) (C: 1-0-1) | $22.99 | VIZ LLC |
| X-FORCE #1 DX | $4.99 | MARVEL COMICS |
| WATCHMEN TP NEW EDITION | $24.99 | DC COMICS |
| TOMIE COMPLETE DLX ED HC JUNJI ITO (MR) (C: 1-0-0) | $34.99 | VIZ LLC |
| DCEASED #6 (OF 6) | $4.99 | DC COMICS |
| DEAD MAN LOGAN #12 (OF 12) | $3.99 | MARVEL COMICS |
| SIXTH GUN GUNSLINGER ED HC VOL 06 | $80.00 | ONI PRESS INC. |