Dave Sim Auctioning New "Feminist" Cerebus In Love, Via Steve Ditko
After serious surgery to his wrist, Cerebus creator Dave Sim had been physically unable to draw since February 2015. He began making signs of recovery in 2017, and did his first new drawing of Cerebus a couple of years ago. But his irregular series of one-shots Cerebus In Hell have mostly been filled with cut and paste stats of his previous Cerebus work, rearranged to tell new stories against the backdrop of Dante's Hell, as portrayed by the late Gustave Dore.
But for his upcoming the Amazing Spider-Vark one-shot, he has channelled the style of Steve Ditko for this new take on Cerebus. And is auctioning the artwork off on the comments section of Moment Of Cerebus. Currently going for $50 with a couple more days to bid.
If you ever wanted to own published original Dave Sim artwork for only a few bucks, this may be one of your few chances.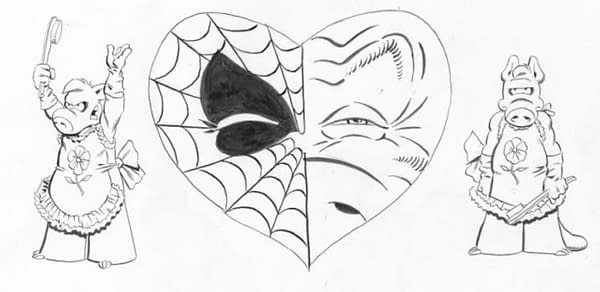 The Amicable Spider-Vark #1 will be published next summer. Here's another look (not up for sale).