Chris Dodd, a deaf performing artist, playwright, artistic director and more, posted a casting sheet for an unnamed Disney Plus TV show that called for a deaf actor.
A casting agency working with @disneyplus is looking for a Deaf actor for an upcoming series. Malia – Female, 20s, Deaf, Indigenous and/or Latinx. Independent, athletic & bright. Lead. Seeing ages 18+ to play a character in her 20s. See the attached flyer for more details.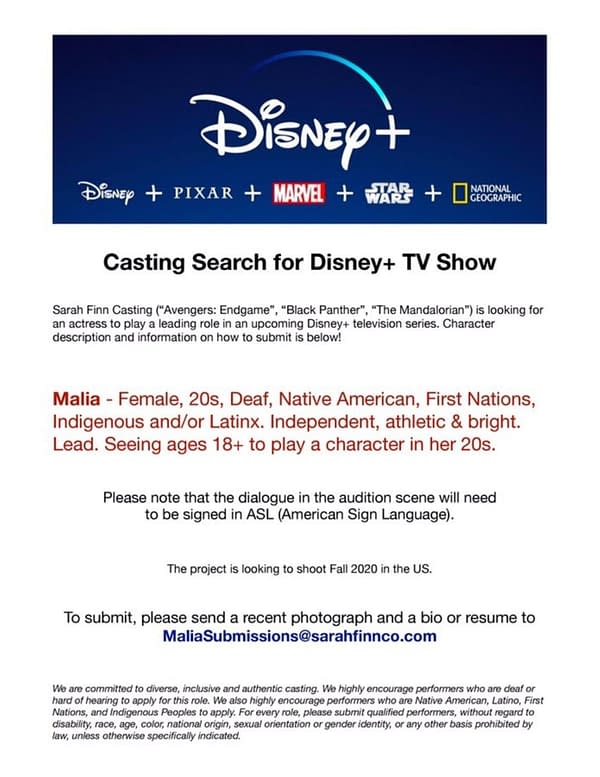 Many believe this could be for a TV adaptation of the Marvel supervillain character, Echo. Echo (Maya Lopez) is a Native American deaf superhero and one of the very few deaf comic characters, her "Echo" guise includes a white handprint that covers most of her face. She has "photographic reflexes" or the ability to perfectly copy other people's movements which, to date, have included concert-level pianist, a strong martial artist, a highly skilled acrobat, and a gifted ballerina, as well as Daredevil's acrobatic abilities and Bullseye's uncanny aim.
David Mack, co-creator of the character with Joe Quesada for Daredevil in 1999, certainly seems keen, posting on Instagram,
Marvel looking to cast a deaf & Native American, First Nation, Indigenous, Latinx actor for a mysterious role in TV series. I taught at The School for the Deaf in Tunisia, Singapore, & Sakartvelo. #ECHO is a huge hit w the students all over the world. They will love this. ⚡️⚡️⚡️I created Echo in 1998 in my first work for Marvel as writer on #Daredevil. It will be a joy to see her on the screen. ⚡️Actors… get your agents on this :)
Recent copies of Daredevil #9, her first appearance, have sold for almost $50 as a result.
Enjoyed this article? Share it!