DC Comics Cancels Batman & The Outsiders Orders, Will Resolicit Later in 2019
Batman And The Outsiders #1 was meant to spin out of Metal, Detective Comics and even a little of Doomsday Clock, with a new series published in December by Bryan Hill and Dexter Soy.
It's even advertised in all this week's DC Comics titles. Like this.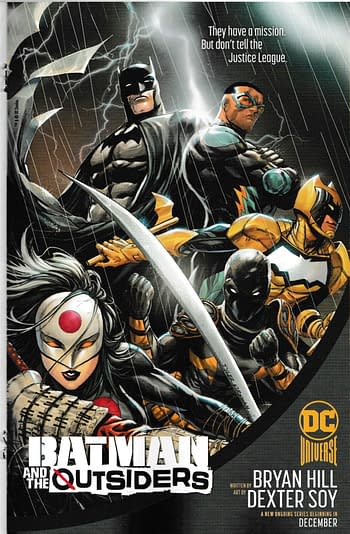 However, for unknown reasons, this is not to be. Not yet anyway.
Despite the solicit for Batman And The Outsiders #3 appearing in Monday's solicitations and printed in the upcoming Diamond Previews, DC Comics have informed comic book retailers that all solicited issues, Batman And The Outsiders #1-#3 have had all their orders cancelled.
They promise that the comic will be resolicited. But the earliest that could begin by, would be to start in March 2019.
We'll see if we can find any more.
In related news, the Scott Snyder and Greg Capullo arc Batman: Death Of The Family Saga has had its Essential Edition collection cancelled. Intended to contain the New 52 Batman #13 to #17, it will now be resolicited at an unknown date, with revised contents, also unknown.
If at any point anyone tells us anything of use, we will pass it on.
BATMAN AND THE OUTSIDERS #1
(W) Bryan Hill (A) Dexter Soy (CA) Tyler Kirkham
When the quest for justice drives Batman into some morally ambiguous areas, he calls in the most moral man he knows: Jefferson Pierce, a.k.a. Black Lightning, and his team of operatives known as the Outsiders! Several years ago Batman personally put the Barrera family into hiding after they suffered through terrible experiments at the hands of an organization called the Ark. Now all but one of them has turned up dead…and Batman needs to locate Sofia Barrera before the wrong people get their hands on her-and her surprising power! But it wouldn't be Batman without a hidden agenda, would it? And when Black Lightning, Katana, the Signal and Orphan find out what Batman is really up to, their every loyalty will be called into question!In Shops: Dec 19, 2018
Final Orders Due: Dec 03, 2018
SRP: $3.99

BATMAN AND THE OUTSIDERS #2
(W) Bryan Hill (A) Dexter Soy (CA) Tyler Kirkham
Sofia Barrera is on the run from an enforcer for the Ark, the program that gave her powers-but in the process, she's fallen into the hands of the mystery man called Kaliber! He claims he wants to protect her…but who's paying his bill? And is Katana already questioning Black Lightning's leadership on their very first mission? Or is she just pushing him in a direction he's not willing to go?In Shops: Jan 23, 2019
SRP: $3.99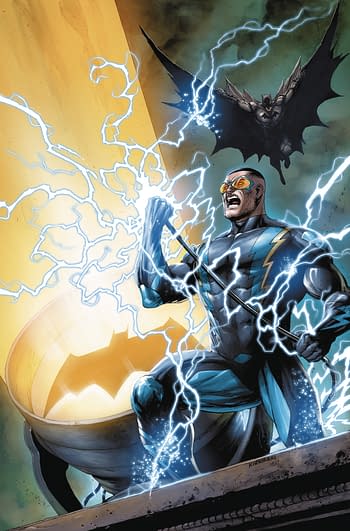 BATMAN AND THE OUTSIDERS #3
(W) Bryan Hill (A) Dexter Soy (CA) Tyler Kirkham
In their first encounter with the powerful maniac who's pursuing runaway meta-human Sofia Barrera, Black Lightning and the Outsiders were absolutely humbled. Does everyone on this team have what it takes? Or did Batman make a catastrophic mistake when he entrusted them with Sofia's life?
RATED T+In Shops: Feb 20, 2019
SRP: $3.99