DC Comics Cancels Batman/Superman In September With #22
The post-Future State Infinite Frontier version of Batman/Superman from DC Comics has been a rollercoaster of a comic book, with Gene Luen Yang, Ivan Reis, and Joe Prado telling stories using innovative fashion, such as double spreads with panels as frames in a celluloid film tape, with characters breaking out and crossing from one timestream to another, and a final collision of the two estranged worlds of Batman and Superman across time, space and culture. One day people will look at it as one of superhero comic books finest hours. But right now it seems that people don't want that kind of thing. And DC Comics is bringing the series to an end in September with Batman/Superman #22. Though it appears from the solicitation that Gene Luen Yang, now with Paul Pelletier, are going out the way they came in, with Calendar Man resurrected after his death in Arkham Asylum's A-Day that kicked off Future State and Infinite Frontier, by Mr Mxyzptlk, and giving us some more playful reworking of the comic book form…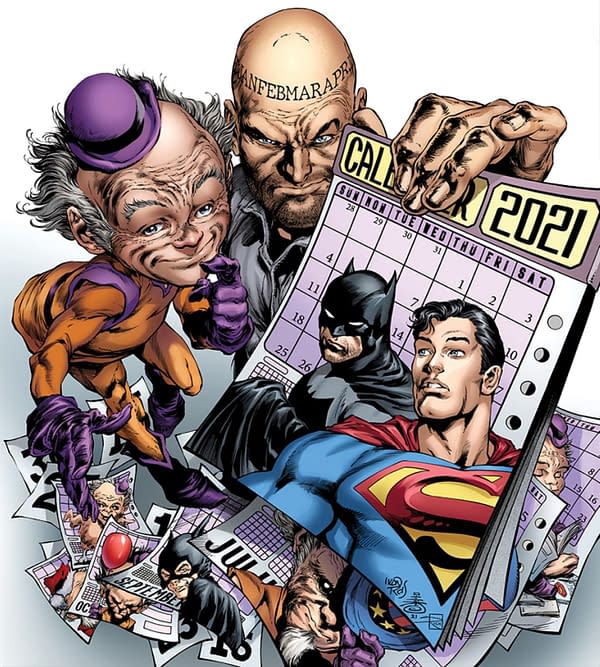 BATMAN/SUPERMAN #22
Writer GENE LUEN YANG
Artist: PAUL PELLETIER
Cover: IVAN REIS and DANNY MIKI
Variant cover: GARY FRANK
Series finale! Mr. Mxyzptlk resurrecting Calendar Man from his death during A-Day is causing some reality-rattling consequences. If Superman and Batman are going to prevent a fifth-dimensional god-being from compartmentalizing all of existence, they're going to need to turn to some unlikely allies.
32 pages, $3.99, (card stock variant, $4.99), available on Sept. 28.
BATMAN SUPERMAN #21 CVR A RODOLFO MIGLIARI
(W) Gene Luen Yang (A) Ivan Reis (CA) Rodolfo Migliari
The dimension-shattering Archive of Worlds saga ends here—and reverberations from this titanic tale last long after the dust settles! As the Dark Knight and the Man of Steel work to halt the villainous Auteur.io's plan here on Earth-0, the Batman and Superman of their respective archive worlds must team up with Alanna of Rann and El Diablo himself to save what's left of their homes. Etrigan and his demon hordes rain Armageddon down on their pocket universes—and the fate of the World of Tomorrow and the World of the Knight hang in the balance!
Retail: $3.99 In-Store Date: 8/24/2021
BATMAN SUPERMAN #20 CVR A IVAN REIS & DANNY MIKI
(W) Gene Luen Yang (A) Ivan Reis (CA) Ivan Reis, Danny Miki
The Man of Steel and the Dark Knight need time to recover from their manic melee through the Archive of Worlds, but the heroes won't rest for long! Despite the efforts of new friends El Diablo and Alanna, Auteur.io, the cybernetic architect of these alternate realities, seems to have the upper hand! And to make matters worse, the Archive of Worlds unleashes its most horrific story ever put to magic-infused celluloid: the dark and twisted tale of that demon from the depths: Etrigan!
Retail: $3.99 In-Store Date: 7/27/2021
BATMAN SUPERMAN #19 CVR A IVAN REIS
(W) Gene Luen Yang (A) Various (CA) Ivan Reis
art by EMANUELA LUPACCHINO, STEVE LIEBER, DARICK ROBERTSON, AND KYLE HOTZ To thwart the apocalypse cascading across multiple realities, Batman and Superman must join forces with their counterparts and sojourn to strange lands! The World of the Knight and the World of Tomorrow are not the only two creations crafted by the sinister Auteur.io — and this nefarious cybernetic despot is hell-bent on at last crafting his own twisted notion of utopia. Join a list of all-star artists as we tour through the ARCHIVE OF WORLDS!
Retail: $3.99 In-Store Date: 6/22/2021