DC Comics Cancels Scalped Book Four – and Probably Five Too
Scalped is a 60 issue crime/western comic book series written by Jason Aaron and illustrated by R. M. Guéra which was published monthly by DC/Vertigo Comics from 2007 to 2012.
The series focuses on the Oglala Lakota inhabitants of the fictional Prairie Rose Indian Reservation in modern-day South Dakota as they grapple with organized crime, rampant poverty, drug addiction and alcoholism, local politics and the preservation of their cultural identity.
In 2014, it was signed up by WGN America for a TV series and a pilot was filmed with a Native American cast. Alex Meraz as Dashiell Bad Horse, Gil Birmingham as Chief Lincoln Red Crow, Irene Bedard as Gina Bad Horse, Chaske Spencer as Sheriff Falls Down and Lily Gladstone as Carol Red Crow. However, after seeing the pilot in November last year, WGN America passed on the project.
If they hadn't passed then it is doubtful that DC Comics would have cancelled Scalped Book Four of the newly repaginated collection of the series.
Originally collected in ten trade paperback volumes, the 60 issue run was then collected in the Deluxe Hardcover format into five volumes.
But recently, with the news of the then-planned TV series and the original trade paperbacks long gone out of print, DC Comics began collecting them in trade paperbacks, now in five volumes like the Deluxe format.
However, they have just announced to retailers that Book Four will not be published in December as planned. Or, indeed, at all. So the odds are that Book Five for 2019 won't be published either. Aaron remaining as an exclusive writer at Marvel Comics probably doesn't help much either.
Readers who had been following along are advised to switch to the Deluxe versions which should have the same paginations, though they will cost more and look different to the others…
Or buy the French version, the fourth volume of which came out earlier in the year.
In English though, look what you could have won: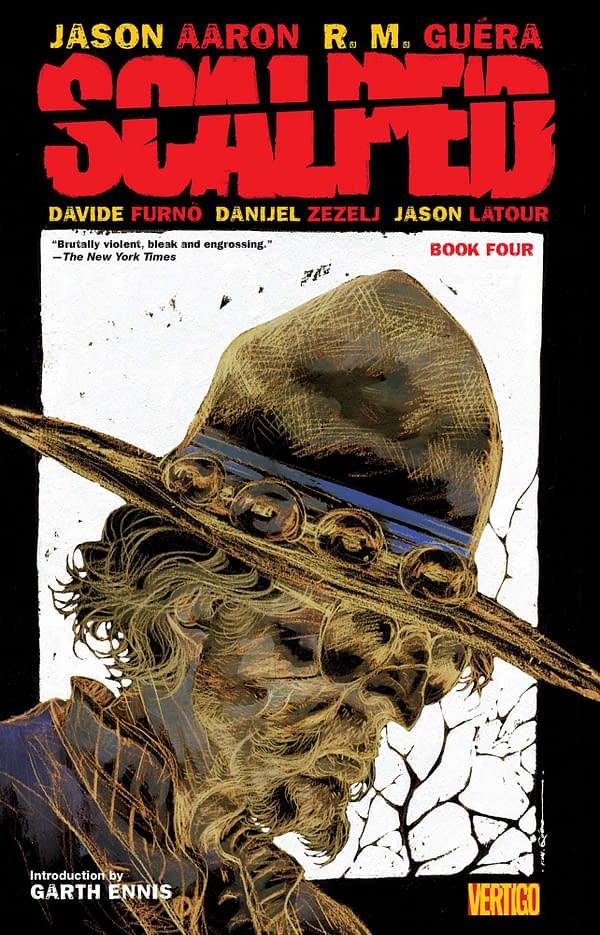 Scalped Book Four

Undercover FBI agent Dashiell Bad Horse may not believe in God, but recent events suggest that some higher power is working overtime to keep him alive. In fact, after several well-placed needles and a few well-aimed bullets, he s better positioned than ever to take down the kingpin of the Prairie Rose Indian Reservation, Chief Lincoln Red Crow. But for all of Dash s good fortune, his mother is still dead, and her murderer is still at large. He s still strung out on heroin, and so is his unborn child s mother Red Crow s daughter. And now he s triggered the suspicions of the Chief s deadliest enforcer, Shunka, a man more than willing to employ violence in the service of both discovering and keeping secrets. SCALPED BOOK FOUR also features guest art by Davide Furno, Danijel e elj and Jason Latour, and covers by Jock. Collects SCALPED #35-49.

Scalped Book Five

As tension on the rez comes to a peak, everyone's priorities are tested. War breaks out, as Red Crow loses his grip on the reins and Dash faces his toughest and fiercest foe yet. Lives are lost and every thread weaved from the beginning of this classic series comes back around, as writer Jason Aaron concludes one of the greatest series in Vertigo lore. This intense crime drama that mixes organized crime with current Native American culture collects issues #50-60.