All the major comic book publishers had signed up to allow their comic books to be made available with all-you-can-eat digital services from Amazon, whether Kindle Unlimited, ComiXology Unlimited or Amazon Prime. Apart from DC Comics.
Today they bit the bullet. Despite launching their own all-you-can-eat DC App for TV, movies, videos and comics, it looks like they have also succumbed to the Amazon beast.
There is still nothing like what is available to the Marvel Unlimited subscriber. But if you are already subscribing to any of the above services, you are now adding DC titles for free.
ComiXology Unlimited is $5.99 a month with a 30-day free trial for new members.
Kindle Unlimited is $9.99 a month with a 30-day free trial.
And Prime Reading from Amazon Prime costs $119 a year with a free trial.
Promoted titles include Batman, Superman, Wonder Woman, Aquaman, and Justice League, Sandman, Watchmen, V for Vendetta, Transmetropolitan, Preacher, 100 Bullets, Fables, and more.
Here's a list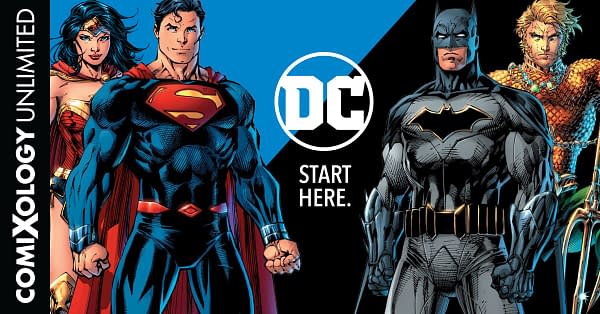 DC:
All Star Superman
Animal Man (2011-2014)
Aquaman (2011-2016)
Arrow (2012-2013)
Batgirl (2016- )
Batman (2011-2016)
Batwoman (2011-2015)
Batman: The Dark Knight Returns

Batman: The Long Halloween 

Batman: White Knight 

Cyborg (2016- )
Green Lanterns (2016-)
Harley Quinn (2016-)
Identity Crisis
Injustice: Gods Among Us (2013)
Injustice 2 (2017-)
The Mulitversity (2014)
New Super-Man (2016-)
Supergirl (2016-)
Teen Titans (2016-)
Wonder Woman (2016-)
DC Vertigo:
100 Bullets
American Vampire
Astro City (2013- )
Books of Magick: Life During Wartime (2004-2005)
Clean Room (2015-2017)
Doom Patrol (1987-1995)
Ex-Machina
Fables
Hellblazer
Preacher
The Sandman
Scalped
Sweet Tooth
Transmetropolitan 
V for Vendetta
Watchmen
Y: The Last Man
Enjoyed this article? Share it!