DC have listed the details of the first issue of Batwoman/Supergirl: World's Finest Giant, in mass market stores in November, and in comic stores in December.
That includes a new cover by Joelle Jones and three new stories:
"Sister, Sister," a 16-page Batwoman and Supergirl team-up story written by Margaret Stohl with art by Laura Braga. When a powerful alien weapon falls into the wrong hands, it will take the combined might of Batwoman and Supergirl to save the city from the Religion of Crime!
"Faceless," an 8-page Batwoman story written by Sanya Anwar with art by Chad Hardin. Batwoman must go undercover in a highly secretive beauty company in order to track down a missing journalist. But what Kate discovers is far more insidious than she ever imagined!
"Exit Interview," an 8-page Supergirl story written by Andrea Shea with art by Mike Norton. Since arriving on Earth, Supergirl has always followed in her cousin's footsteps. But maybe it's time for Kara to forge her own path…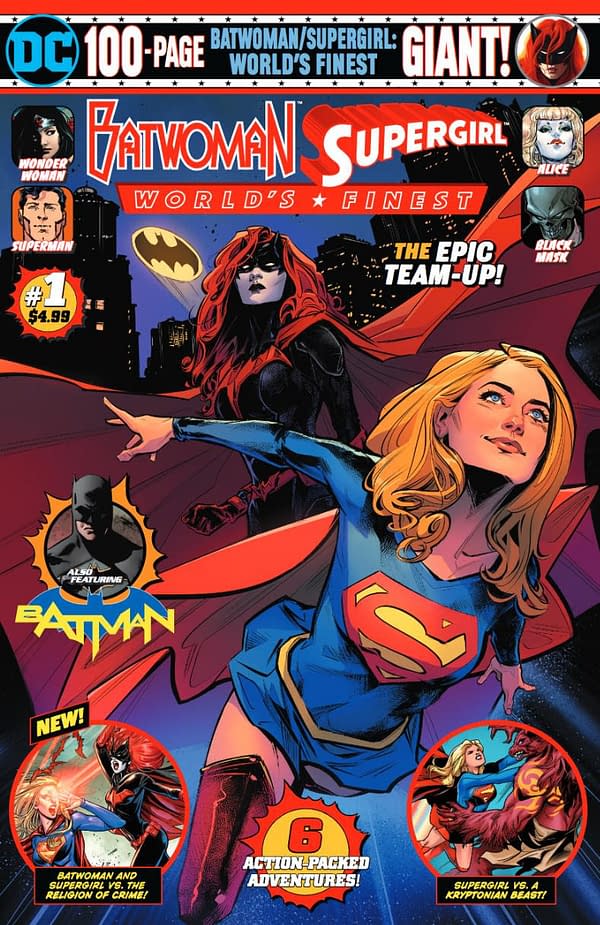 Plus, these reprint tales:
* "Looking Glass," from Batwoman: Rebirth #1
* "Brainiac Part One," from Supergirl: Rebirth #1
* "Escape from Dinosaur Island Part One," from Batwoman #0
Batwoman/Supergirl: World's Finest Giant #1 has an on-sale date of December 4th.
Enjoyed this article? Share it!