DC Comics Replaces Print Previews With Checklist Posters
Recently, DC Comics stopped the print copy of their monthly Previews catalogue, instead relying on a digital copy, and relaunching it as DC Connect. But there are still the needs of print to consider, especially for a comics publisher. So DC is to replace it with a checklist poster instead with a QR code and URL to the digital version. So readers can fill it in and return it to the store if they so wish.
The DC Connect Checklist Poster measures 13.25" by 10.1875", and will arrive in stores folded to 6.625" by 10.1875" — the size of a standard comic book.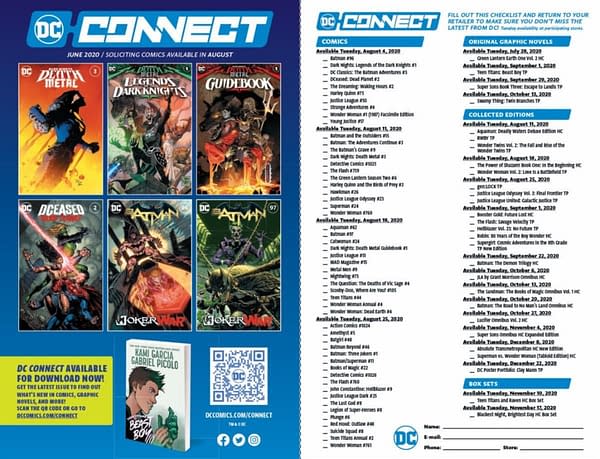 Retailers will receive the DC Connect Checklist Poster in quantities based on their FOC orders for the most recent issue of Batman. The first DC Connect Checklist Poster spotlights August on sale comics, with Batman: Three Jokers #1 on the front. It is scheduled to arrive in stores on July 28 with no freight costs. Future DC Connect Checklist Posters will be offered with an opt-in for retailers to confirm they wish to receive them, as well as an option to order more copies at a promotional price.
Upcoming posters in this series will arrive in stores at least one week before each month's first Final Order Cutoff date, in time to help support pre-orders on DC Comics' titles that month.
DC states that they also plan to continue evolving this item, with multiple versions of the poster each month featuring different projects on the front and the same checklist on the back. And, beginning with the second poster, the checklist will be adjusted to include space for customers to indicate whether they want the main cover, the variant cover, or both. Here's a look at the first of the posters with Batman: The Three Jokers on the front – or back, depending on your perspective.