DC Replaces DC Previews With Digital-Only DC Connect #1
So we are getting a new Diamond Previews on Wednesday. But we may now no longer be getting the DC Previews that goes along with it. Instead DC Comics is launching a digital-only version, DC Connect, and the first issue is available right here, right now, at this link. DC Comics describes it thus:
DC CONNECT #1
Welcome to the debut issue of DC Connect, the new catalog of what's coming from DC each month!

This downloadable catalog features solicitation information for DC's comics, original graphic novels, collected editions, and collectibles—and that's just the start! In the coming months we'll evolve this catalog into something that truly embraces communication to all DC fans.

In future issues of DC Connect you can look forward to expanded content including talent interviews, preview pages from upcoming stories, behind-thescenes looks at projects in development, multimedia content, and more! The catalog will also have a new look and layout, making it more engaging and easier to quickly absorb the important information you need to make informed ordering decisions.

Whether you're a retailer considering your DC orders for the month or a fan who wants to know what's up with your favorite heroes, DC Connect will give you the inside track on all things DC!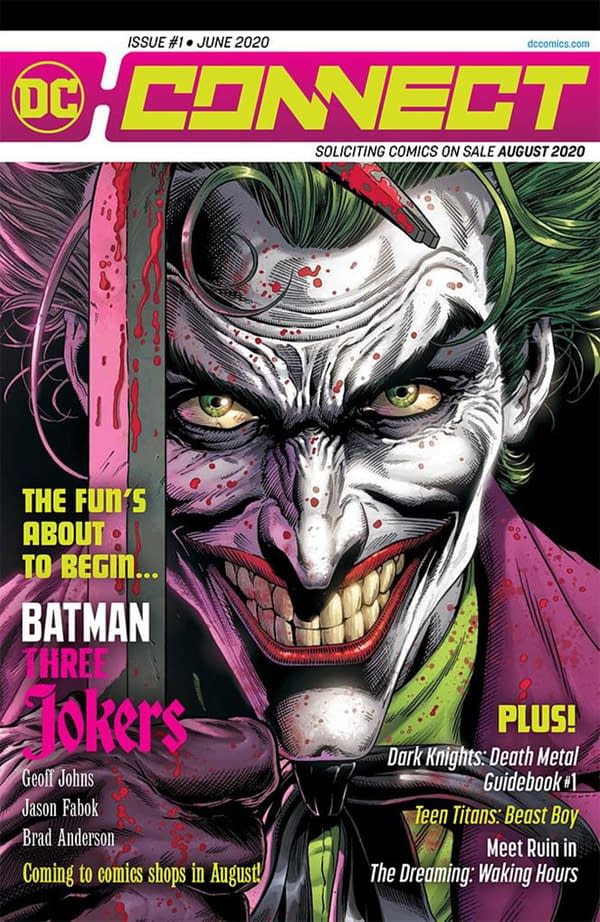 DC Comics left Diamond Comic Distributors as an exclusive client when the distributor closed over coronavirus concerns. Unlike most other publishers, DC Comics set up competing distribution means, which are continuing after Diamond returned to distribution. But that does mean that things between DC and Diamond aren't as they were and this seems to be one of the many shoes that seem to be dropping all over the place right now. At least DC Comics managed to keep its Gems in the new Diamond Previews catalogue but this looks like the first of many changes. Catch up with other comics distribution issues right here