It appears that The Last God: Book One of the Fellspyre Chronicle #1, Philip Kennedy Johnson's new comic book with Ricardo Federici, Dean White and Jared Blando has not received the kind of orders from DC Comics that they may have been looking for. It's the first issue of what is intended to be a multi-format saga, so they would like it to hit a little harder for ts first issue.
As a result, they will be doing the kind of thing that Marvel Comics used to do, a free overship. Retailers will get half as many as they ordered on top of their FOC orders, of both covers, for October 30th.
Overshipping was intended to give conservatively-ordering retailers the opportunity to discover that maybe they could sell a few more copies than they might have thought, and may up their orders for subsequent issues. Or maybe engage in passing free samples on to customers, and get some more orders for future issues as a result. It also had the side-benefit of upping numbers in Diamond Comic Distributor's monthly statistics. For unit ranking and unit market share at least, if not for dollar ranking and dollar market share.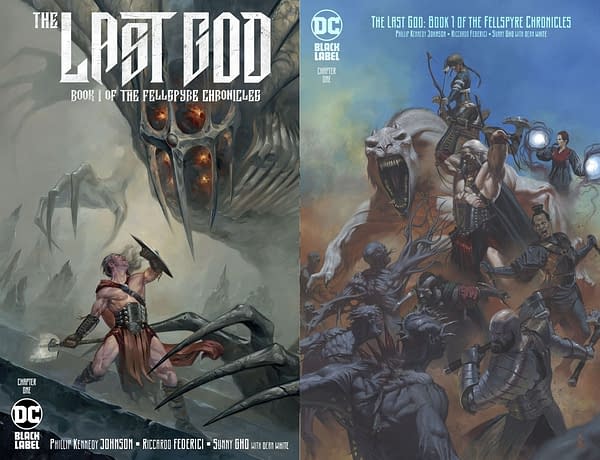 DC Comics will also be supporting the launch of the first issue with a 24" x 36" poster, a double-page ad running in their October titles, a DC Nation column featuring an interview with writer Philip Kennedy Johnson and placed stories with DC media partners such as CBR, Newsarama and Comics Beat.
LAST GOD #1 (MR)
(W) Philip Kennedy Johnson (A) Ricardo Federici, Dean White, Jared Blando (CA) Kai Carpenter
THE LAST GOD tells the story of two fellowships of heroes struggling with the same threat…30 years apart. One group will doom their world, the other must save it.
Thirty years ago, a band of heroes traveled beyond the borders of creation and killed the last living god, saving the realm of Cain Anuun from an apocalyptic army of the undead. The legendary companions became the rulers of their world and ushered in a new era of peace and prosperity. But it did not last.
Now the foul legions of the Last God march once more, laying waste to all of Cain Anuun and revealing that the aging fellowship may not be the great heroes they claim to be. With the world burning down around them, a new group of unlikely champions must band together and accomplish what no other has done: kill the Last God, once and for all.
THE LAST GOD: BOOK ONE OF THE FELLSPYRE CHRONICLES is a high-octane, no-holds-barred dark fantasy epic from writer Phillip Kennedy Johnson (Last Sons of America, Warlords of Appalachia, AQUAMAN) and artist Riccardo Federici (DARK NIGHTS: METAL, AQUAMAN), featuring additional work from Kai Carpenter (BOOKS OF MAGIC), Dean White (ALL-STAR BATMAN, Uncanny X-Force) and Jared Blando (Dungeons & Dragons).In Shops: Oct 30, 2019
SRP: $4.99
Enjoyed this article? Share it!