DC Editorial Moves: Molly Mahan Now Senior Narrative Editor at Riot Games, Rob Levin Now at Humanoids Publishing
Four-and-a-half years ago, Bleeding Cool reported that Molly Mahan had moved coasts from being an editor at Dynamite in New Jersey to being an editor at DC Comics in their brand spankingly new Warner Bros offices in Burbank, California.
Graduate of the Texas Christian University (returning visual below), she worked on the DC imprint Vertigo and later Young Animal, including books such as Sheriff of Babylon, Shade The Changing Girl, Cave Carson has a Cybernetic Eye, Mother Panic, Clean Room, Doom Patrol, The Dreaming, House Of Whispers, Lucifer, Detective Comics and more.
Well, Molly has moved on again, somewhere a little closer. Bleeding Cool understands that Molly has left corporate comics behind to become Senior Narrative Editor at Riot Games, in Los Angeles, as of last month. Best known for developing international eSports phenomenon and multiplayer online battle arena League of Legends, while currently working on a new fighting game, Riot Games have recently made headlines due to multiple allegations of sexist business practices.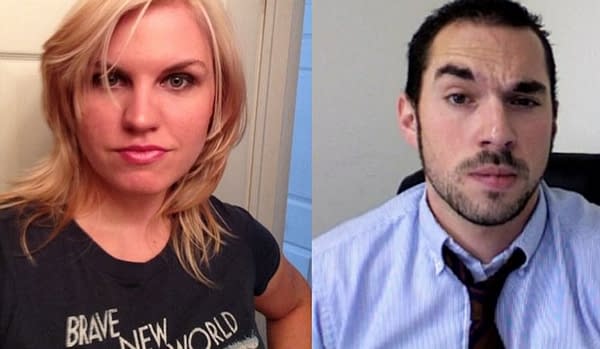 There's another recent significant move as well. Bleeding Cool hears that Rob Levin has moved as DC Comics editor. Former editor for CBR, Top Cow Comics, he has written comics including Bushido: The Way of the Warrior, 7 Days From Hell, Broken Trinity: Pandora's Box, Abattoir, Netherworld, as well as being a freelance editor for Image titles such as Nailbiter and Mind The Gap. As a DC editor, he has worked on Batman Beyond, Injustice, Scooby-Doo, Titans, Silencer, Red Hood & The Outlaws, The Wild Storm and recent issues of Justice League and Batman.
And now, we understand, he is off to be an editor at Humanoids, based in Los Angeles. Originally a French publisher, they moved their base of operations from Paris to LA, and have begun a new line of US-focused titles dubbed H1, showrun by Mark Waid with John Cassaday as CCO.
LA is clearly the place to be…