How DC's New Age of Heroes Spins Out of Metal and Ties Into the DC Universe
DC Comics has launched its New Age of Heroes line, new characters and concepts launching from A-list artists given creator-participation deals, even though they seem to only be staying on for the first three issues of each title. With the artist listed first in the credits rather than the writer, and the stories intended to be written in the plot-art-script fashion classically known as Marvel-style. But each and every book fundamentally tied into the DC Universe, and spinning out of the Metal series.
A few spoilers along the way, of course.
We've had a look a batch of the first few issues and here's what we can see. So how does everything tie in? Well, we have seen the Immortal Men and The New Challengers in Metal. But there seems to be more going on…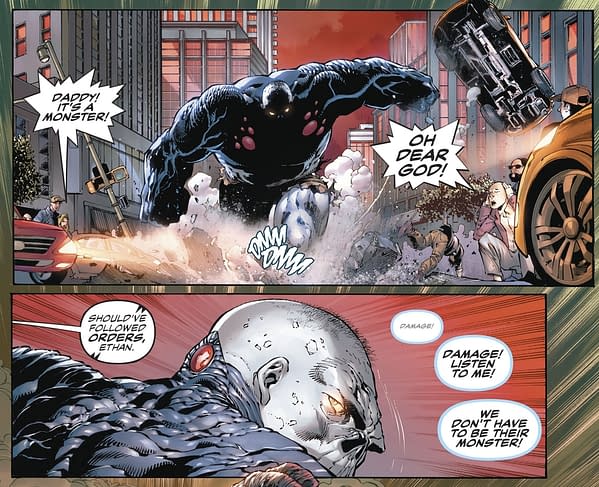 Damage #1 by Tony S. Daniel, Robert Venditti, Danny Miki, Tomeu Morey and Tom Napolitano features a rampaging monster out of control called Ethan. I wonder who that could refer to? The pilot John Nichol probably isn't Doctor Polaris. But the big centre piece sees Amanda Waller arriving with Task Force XI, the sequel to the Suicide Squad, consisting of Giganta, Parasite, Solomon Grundy, Ragman, Harley Quinn and Deadshot.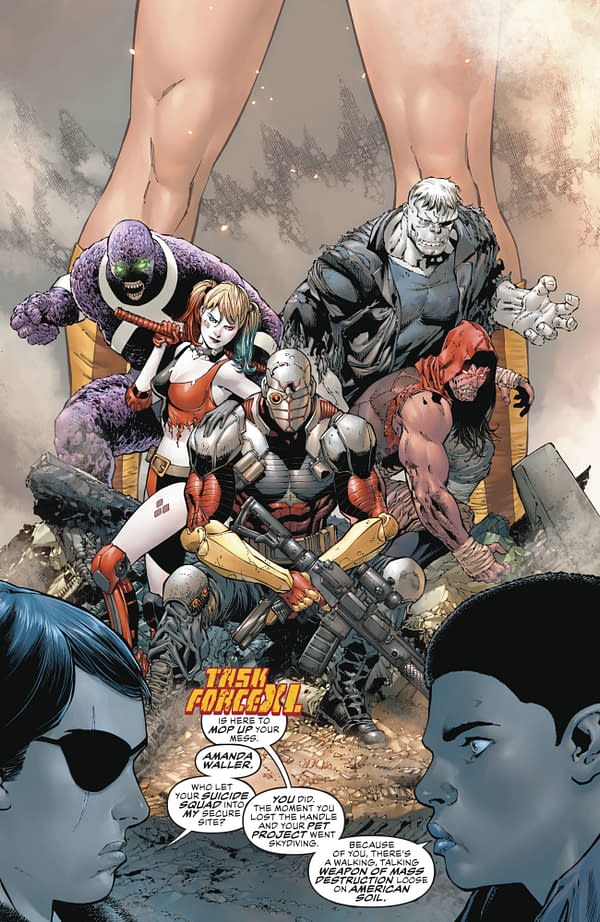 Sideways #1 by Kenneth Rocafort, Justin Jordan, Dan DiDio and Dan Brown sees a young teleporting superhero who likes Red Star action figures, isn't as strong as Superman. His story follows on the mountain that appeared in Gotham in Metal, as he was in the city at the time at an event for a Ms Dominus — any relation to the alien priest? And he now has overprotective parents not letting him out any more, and are worried about school trips. But the mountain gave him his powers to "rift" in space — and maybe time. Hence the Crisis Ultimatum heading his way.

Silencer #1 by John Romita, Dan Abnett, Sandra Hope and Dean White is a story about a retired super-hitman being targeted and having to defend herself and her family. And the people she used to work for? Talia al Ghul and Leviathan, right out of Grant Morrison's Seven Soldiers and Batman.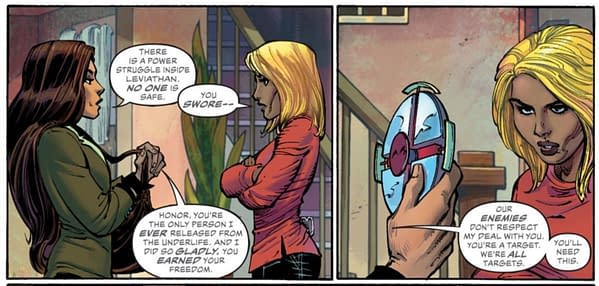 While The Terrifics #1 by Ivan Reis, Jeff Lemire, Joe Prado and Marcelo Maiolo is just full of DC characters. Mr. Terrific saw his company taken from under him while busy saving the omniverse in Metal, by classic DC villain Simon Stagg and Stagg Industries, father of Sapphire Stagg, and original employer of Sapphire's partner, Metamorpho. And Stagg using Terrific's tech to get back into the Dark Multiverse with Sapphire's unsure help and Metamorpho's Nth Metal body trapped in the portal. Oh, and Plastic Man is still an egg — and his status is all Batman's fault, using Plastic Man to explore the Dark Multiverse years before Metal began. And so the adventure begins, through Dark Multiverse dimensions first encountering a new Phantom Girl – Linnya Wazzo from Bgztl, possible daughter of the original Legionnaire Phantom Girl, Tina Wazzo — and a distress signal from Tom Strong…
UPDATE: No time travel required…
Future solicits see Poison Ivy and Wonder Woman in Damage, Killspeed in Sideways, and Deathstroke in Silencer. It all ties in… somehow.