Spilling out of WonderCon comes the buzz from comics professionals that DC Comics is to conclude its current variant cover programme.
Starting with the DC Rebirth issues, each twice-monthly and monthly series (and a few of the mini-series) had a regular variant cover gig for a major artist to work on the character with images less likely to reflect the specific issue in question. Frank Cho's issues with Wonder Woman series writer Greg Rucka saw Cho leave that series despite having been hired for a year, or 24 issues. And it seemed that was the standard deal for a twice-monthly book.
We are rapidly approaching the end of the second such year, and the variant cover programme is still in place. But will it be for much longer? The extra expense in commissioning such art, and splitting the cover print run combined with a belief that no one is actually buying any extra copies because of the covers, as every comic has one, may see DC Comics return to the ex-DC SVP Sales Bob Wayne philosophy of variant covers, which is that of moderation. Have them to launch an issue, have them for anniversaries, have them if you have a really good idea, but don't have them as standard.
Okay, maybe Stanley "Artgerm" Lau. He really does seem to move the needle when it comes to variant covers on Supergirl and Mera.
Keep an eye on coming months — after all the 50th issues, anyway.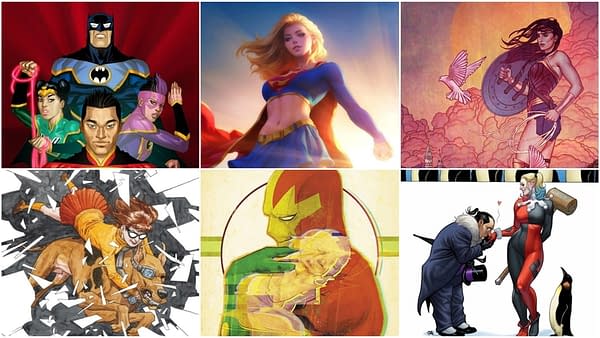 Enjoyed this article? Share it!