In recent years, principally through the Harley Quinn stories of Amanda Conner, Jimmy Palmiotti and Chad Yardin, Harley and Poison Ivy have been written as non-monogamous, non-exclusive girlfriends.
Yes, they are Girlfriends without the jealousy of monogamy. @jpalmiotti @AmandaRantsAlot #HarleyQuinnChat https://t.co/n86jApADCi

— DC (@DCComics) June 12, 2015
But it appears that this may be coming to an end.
The recent Harley Quinn & Poison Ivy mini-series ended with Harley Quinn running from Poison Ivy, who had been split into warring separate personalities, a combination of her new plant body and power boost from Lex Luther. And while they are still portrayed as a couple, albeit one having to be separate, the big splash page goodbye kiss…
….was a bit lacking. It even looks as if it may have been redrawn at the last minute, from what folk may have been expecting. Stjepan Sejic stepped up to whip up an alternative.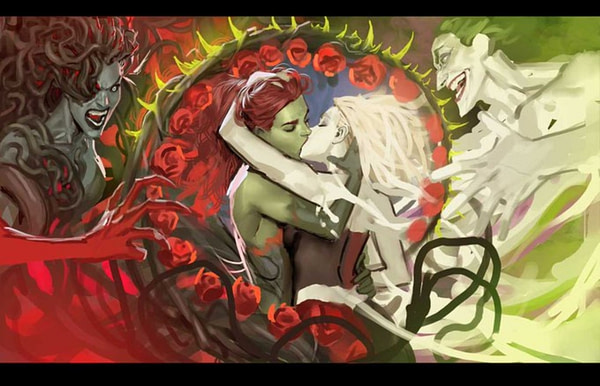 Meanwhile, the Harley Quinn series has not featured Ivy for some time, and Ivy has not been referred to in solicitations for months. It looks as though DC Comics editorial has mandated that the pair be split, Poison Ivy be deprioritized as a character and Harley Quinn go solo. For Valentine's Day, DC Comics social media posted a number of promotions for couples characters at DC Comics. They did not include Harley and Ivy.
Music from the heart…🎶💘 Which song is at the top of your #ValentinesDay playlist? pic.twitter.com/0DkW9ORnXI

— DC Kids (@DCComicsKids) February 14, 2020
It's date night in Gotham City 🦇🖤 Earn 2x points on dining this #ValentinesDay with the DC Power Visa: https://t.co/i10vGQetx4 pic.twitter.com/PsohqzWtJF

— DC (@DCComics) February 14, 2020
Why spend #ValentinesDay with one person when you can have a party? 😉 Gather your flock and celebrate with #BirdsOfPrey, NOW PLAYING only in theaters. Get tickets: https://t.co/aHlmpxSucD. pic.twitter.com/X8Hsw5WZMX

— Birds of Prey (@birdsofpreywb) February 14, 2020
However, they did tweet Harley in a post intended for those who are single on Valentine's Day.
#ValentinesDay isn't for everyone… #SinglesAwarenessDay pic.twitter.com/L1E3AJxncz

— DC Universe (@TheDCUniverse) February 14, 2020
Is it me, or does this feel like Ike Perlmutter and the Fantastic Four all over again?
I was today years old when I realized not everyone thought Ivy/Harley were obviously a couple.

Weird.

— GAIL SIMONE (@GailSimone) February 13, 2020
People don't think Harley and Ivy are a couple?
Oh. I've been writing them all wrong.#BestComicsRomance https://t.co/PQsMRV23L1 pic.twitter.com/5IwRvI2T6A

— Tom Taylor (@TomTaylorMade) February 14, 2020
Enjoyed this article? Share it!