Doctor Doom Does Brexit in New Marvel Comic
Man, Doctor Doom takes the powers of the Silver Surfer and destroys much of the world? Nothing. Turns everyone in the word into his mind-slave? Invades Earth with slaves from a parallel Earth? Nada. constantly invading other countries, just a slap on his tin wrist.
But you bomb one itty bitty moon base and satellite killing only 3000 people and suddenly NATO bombs 65,000 of your Latverian citizens off the planet. And then you surrender?
The new Doctor Doom series has seen the good Doctor framed for blowing up a space mission to save the world's climate by using Reed Richards and Tony Stark inventions to take all that carbon dioxide and put it into a black hole, set up on the moon.
What could go wrong? With Latverian rockets launched and a seemingly Latverian taskforce claiming credit, we may be about to find out.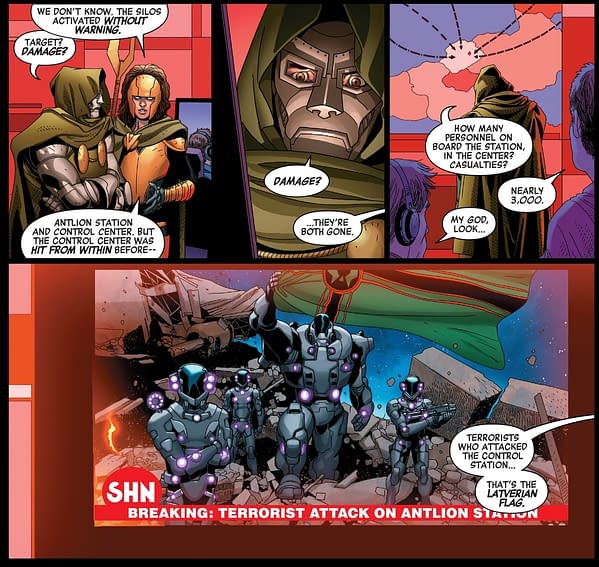 Some have criticised the decision of Doom to surrender. Would he really do that?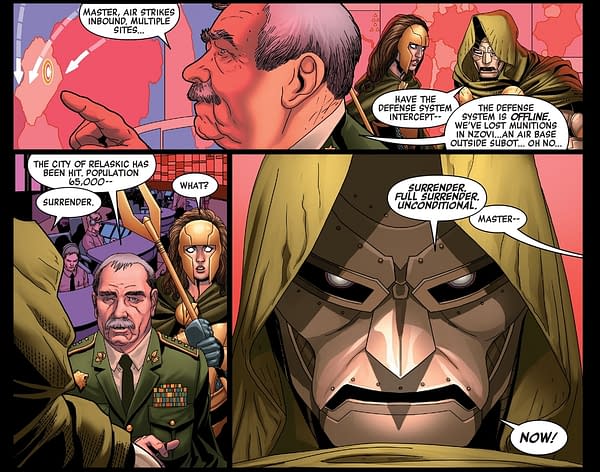 Instantly calculate that surrendering and escaping would save citizens of Latveria from further attack, maybe even keep them safe, when someone has such power over Latveria weaponnry – and it isn't him? Playing the long game, decided in seconds, that's what I read in those cold dead eye sockets.
Heveven gets to quote Greta Thunberg on his way out.
And preparing for his own inevitable doom.

As the first responders enter Latveria to take down Doom, we get United Jack, currently Joseph Chapman, a Mancunian son of a shipbuilder, turned superhero and inheritor of the Falsworth mantle.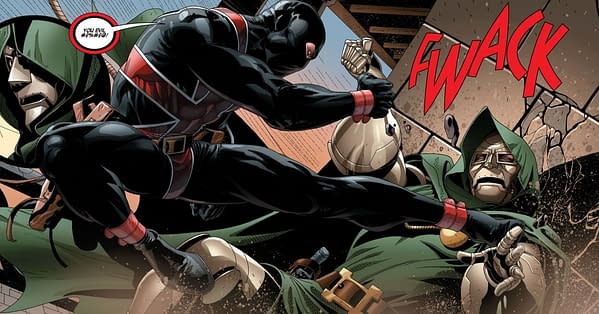 Well, Doctor Doom had only one nickname for the fellow.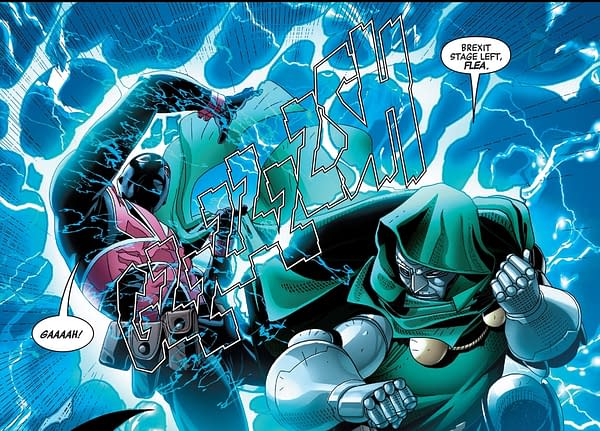 If he's going to go down, he's going to do so reminding his opponent of his place in global politics and commerce. And you just know that Union Jack voted Leave when it came to Brexit…
DOCTOR DOOM #1
(W) Christopher Cantwell (A) Salvador Larroca (CA) Aco
THE CRACK OF DOOM!
From Christopher Cantwell (HALT AND CATCH FIRE, SHE COULD FLY) comes a new monthly ongoing series…
Victor Von Doom – scientist, sorcerer, disfigured face, twisted soul – has been spending much of his time warning against a trillion-dollar global effort to create the first "artificial" black hole. Wrestling with visions of an entirely different life…a better future…DOCTOR DOOM finds himself at a crossroads. (what is he questioning?)
A catastrophic act of terrorism kills thousands, and the prime suspect is… DOOM? Victor will have to push his unexplained thoughts aside and focus on remaining alive as the title of "Most Wanted Man" is thrust upon him….
Left with no homeland, no armies, no allies, indeed, nothing at all, will the reign of Doctor Doom come to an abrupt halt?
Rated T In Shops: Oct 09, 2019 SRP: $4.99