Does Marvel Comics #1000 Suggest a Wedding of Wiccan and Hulkling? (Spoilers)
There will be lots to say about Marvel Comics #1000 today. We said a lot about it yesterday.
Thanks to a former Bleeding Cool contributor for turning me onto this. It had totally passed me by when I read it for the first time. But today's Marvel Comics #1000 reunites Allan Heinberg and Jim Cheung for a one-page reunion for themselves and for the characters.
But where is it happening? The page is titled 'A Celebration Dinner'. The cast of the Young Avengers are in suits and frocks. It looks, from all accounts, to be a wedding dinner.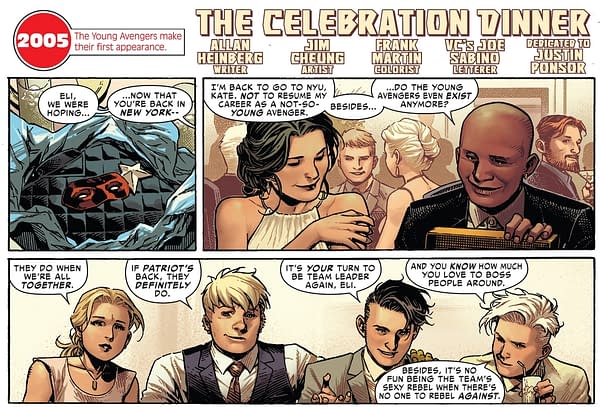 But whose? Could it be that of Wiccan and Hulking, married in subtext? Might we see more of such an occasion, in a future Young Avengers? They have both been appearing in Death's Head together. And the incoming Incoming from Marvel for Christmas week suggests a major role for Hulking to come…
But as for Young Avengers? In previews of Marvel Comics #1000 shared with Bleeding Cool, Eli Bradley was heard, back in the Patriot costume, exchanging words
ELI: Would you believe me if I said this is just a one-time thing?

KATE: Nope. Not for a second.

ELI: Then believe me when I say that I have missed this.

And Law School just got a lot less interesting…

…now that the original YOUNG AVENGERS (logo) are back together.
And now, less of an underlining of new stories together…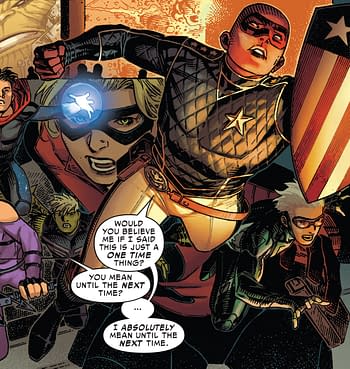 Did something change? The suggestion of a Young Avengers revival, as promised by EIC C.B.Cebulski for 2019, and teased in West Coast Avengers #7, suddenly disappear along with Mark Waid's Orange Skull moment?