Dogmatix to Get His Own Asterix Comic Book
Last year's Asterix comic book, The Chieftain's Daughter, was the best-selling comic book in the world. And while Asterix fans settled down for the good long wait until the next, it appears they won't have to wait as long as usual. Because, alongside the upcoming Dogmatix animated TV series (Idéfix in the original French), it appears that Dogmatix will be getting his own comic book as well, produced alongside the new TV show. The news was in the recent Asterix Max official fan magazine. Created in lockdown, written by animation writer Matthieu Choquet and drawn by Jean Bastide, who is best known at the artist who took over Laurent Verron and Roba on the Boule Et Bill series, after creating adult graphic novels Notre Dame and La Guerre Des Sambre and now the latest official Asterix artist. Which has given new light to his Uderzo-style sketches he has been posting to social media. This will be published ahead even of the release of the 'missing' Asterix comic book, originally issued with a vinyl record, The Golden Menhir.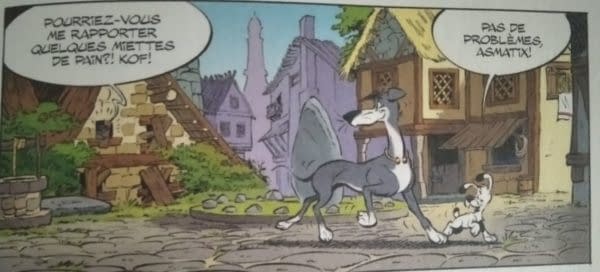 The comic will also address the current universal theme of confinement and isolation we have all been feeling, as an epidemic hits Gaul – and its chickens – leaving the dogs of the village to roam free, while Romans impose a quarantine.
Asterix is a French comic book series about Gaulish warriors, who have adventures and fight the Roman Empire during the era of Julius Caesar, and last year celebrates its sixtieth anniversary. The series first appeared in the Franco-Belgian comics magazine Pilote on 29 October 1959, written by René Goscinny and illustrated by Albert Uderzo until the death of Goscinny in 1977. Uderzo then took over the writing until 2009, when he sold the rights to publishing company Hachette. In 2013, a new team consisting of Jean-Yves Ferri and Didier Conrad took over. As of 2019, 38 volumes have been released, with the most recent released in October 2019. It has consistently been the best-selling comic book in the world, and is about to get a relaunch in one of the only country's to resist its charms, the USA, from Papercutz.
Dogmatix is Asterix's dog and met Asterix and Obelix in Lutetia in Asterix and the Banquet, and followed them all the way around Gaul until Obelix finally noticed him when they reached the village. He has been a constant part of the comic book series since, had a line of spin-off illustrated books for kids and is now getting his own TV series this year.