The Cover to 2019's Best-Selling Comic in the World, Revealed – Asterix And The Chieftain's Daughter
Dav Pilkey's Dog Man can go swivel. One Piece, Bleach and Attack on Titan can get stuffed. Raina Telgemier can go kick a can. Marvel Comics EIC C.B.Cebulski and his dreams of another million-dollar selling comic book from Marvel can only look on in envy. Today we get a look at the guaranteed best-selling comic book of 2019, by far, with the French language cover. And our first look at the character in the book's title.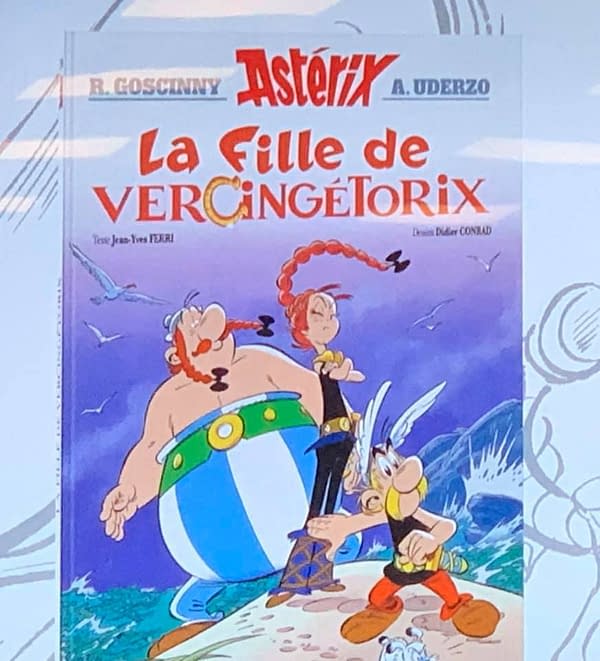 Astérix – La Fille de Vercingétorix by Jean–Yves Ferri and Didier Conrad, supervised by Asterix co-creator Albert Uderzo. will be published later this month. The English translation will be Asterix And The Chieftain's Daughter – Bleeding Cool was the only English-language media at the announcement of the title of this new album, for the character's 60th anniversary. The first print run will be over five million copies, and that will take up all available printer and warehouse space for the publisher. A second print will be arranged as soon as there is space.
The comic will be published in multiple languages simultaneously on October 24th. Here's what we know…
60 years after his first appearance in the pages of Pilote, the hero created by two geniuses of the 9th art, René Goscinny and Albert Uderzo, is back! If Asterix and Obelix thought they could recover from their previous journey in the tranquility of their beautiful Armorica, they have failed! Escorted by two Arvernes chiefs, a mysterious teenager has just arrived at the village. Caesar and his legionnaries seek her, and for good reasons: In the village, it is rumored that the father of the visitor would be no other than … the great Vercingetorix himself, once defeated at Alesia! On October 24, Asterix & Obetix return in a new adventure that will be called The daughter of Vercingetorix, always imagined by the famous tandem Jean-Yves Ferri and Didier Conrad.

"WHO'S THAT GIRL?"

"What we know," reveal the two authors, "is she's a revolting teenager. That's normal, it's not easy to be called Vercingetorix"" We have pretty much investigated her for the book: her appearance, her name, her character … As you know, Vercingetorix was very discreet about his Privacy, and historical sources are rare. But you will see, we managed to get many scoops!"