Doomsday Clock #11 Beats House Of X #4 in Bleeding Cool Bestseller List, 7th September 2019
This is the Top Ten Bleeding Cool Bestseller List, as compiled by a number of comic stores from their sales on Wednesday and Thursday. It measures what are known as the "Wednesday Warriors", those who can't wait till the weekend to get this week's comics. And it's the Doomsday that beats the House – and both just beat Spawn… notably, Something Is Killing The Children squeezes into the top ten…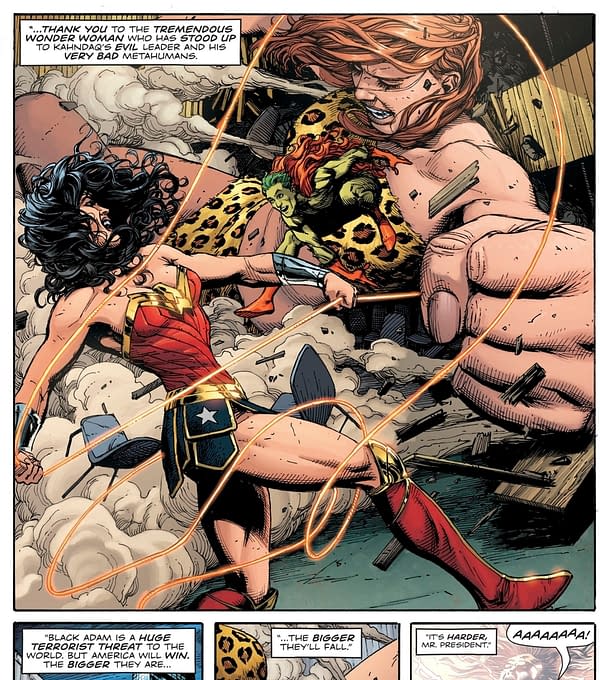 Top ten bestselling comics of the week
Doomsday Clock #11
House Of X #4
Spawn #300
Justice League #31
DCeased Good Day to Die #1
Legion of Super-Heroes: Millennium #1
Immortal Hulk #23
Fantastic Four#14
Harley Quinn & Poison Ivy #1
Something Is Killing The Children #1
Thanks to the following retailers…
Who had this to say:
Doomsday Clock still has the power as it clocks in for first place. Spawn took second. House of X actually slips heavily in sales from previous issues, it looks like other stores in the area have adjusted their orders on the title to meet demand and we are no longer seeing people from other stores worried they will not be able to get a copy.
Hello!
—
Another week, another issue of HOUSE/POWERS OF X demolishing sales. DC brought some heavy guns to the sales racks this week as well, however, with -*gasp*- an actual issue of DOOMSDAY CLOCK seeing the light of day.
We have some usual suspects populating the rest of the list: IMMORTAL HULK doing great as always, FANTASTIC FOUR, GREEN LANTERN, etc. But we've also got a few unusual titles hanging around this week. Fueled by the hype of breaking a record, a clever cover homage, and collectors' love of big, round numbers SPAWN #300 is our third-best seller this week, beaten out by only those two sales titans mentioned in the opening.
Also helping to break up the usual Marvel-and-DC parade is BOOM! Studios' SOMETHING IS KILLING THE CHILDREN, launching with a very good first issue from creative team James Tynion IV and Werther Dell'edera. Quite a week!
—
Thanks to a heavy first issue push, DC took five slots in the top ten compared to four four Marvel–but Todd McFarlane beat them both with Spawn #300, which took first place in our store by a large margin.The big disappointment of the week was Legion of Super-Heroes Millennium #1, which barely placed in tenth place; word got out early that there was absolutely NO Legion of Super-Heroes in the first issue, so a lot of readers decided that they could do without it. Harley Quinn & DCeased: A Good Day to Die both benefited from numerous open-order variant covers (a gimmick that made Spawn a sales juggernaut this week).
—
The marketing machine that is Todd McFarlane pushed SPAWN #300 to the TOP SELLING position at our stores. Even with the $7.99 price point – people wanted to see what was going on, and scary amounts of people bought ALL THE COVERS. Sigh. Don't get me wrong, I'm glad that Todd has stuck with the numbering and delivered a consistent product after all these years, I just resent his pretending to have broken the record set by CEREBUS. I guess I missed the part where Todd wrote and drew 300 issues in a row? Compare apples to apples folks.
On a side note, two killer weeks in a row left us with devastating bills but created an even stronger 2nd week with SO MUCH good product to pick from. Exciting time to be reading comics.
—-
I've been interested to see how House of X would fair against Doomsday Clock, and it was close, but House of X ultimately won out. I have no doubt that Doomsday Clock will sell more in the long run, once people realize there's a new issue out. That's always the problem with these huge gaps and delays: People will ask over and over about it until they eventually just give up and completely forget. On the bright side, I'm sure everyone will have ample time to catch up on Doomsday Clock considering how long it'll be before #12 actually hits shelves. As for the rest of the titles this week, DC pretty much dominated sales with DCeased A Good Day to Die, Justice League, and Green Lantern, all heavy-hitters. Legion of Super-Heroes Millennium had a passable premiere, cementing it in the middle of our top 10, which I guess is decent for a book lacking its titular team.
—