eBay Gets its Own Avengers #1 Variant Cover by Mahmud Asrar, Opens All-Avengers Online Store
Online marketplace eBay has revealed its own EXCLUSSSIVE Avengers #1 variant cover, kicking off the launch of an Avengers-centric online store and, in a bit of a stretch, claiming to feature eBay's first female lead for a variant cover because Captain Marvel is on the cover alongside Captain America, Thor, Iron Man, and Black Panther. Only 3,000 copies of the variant have been printed. A press release divulged the details this afternoon.
The cover, by artist Mahmud Asrar, was commissioned by online comic book mega-retailer MyComicShop (where we personally buy all our back issues), which touts its own collection of Avengers and Marvel memorabilia as "a world-class Vintage Avengers and Marvel Universe Comic Collection valued at over $250,000. This specially curated collection features over 190 rare books representing the history and origins of the most popular Avengers characters. This includes Amazing Fantasy #15 – valued at $94,000 – and Tales of Suspense #39, valued at $13,500." Check out their eBay store here.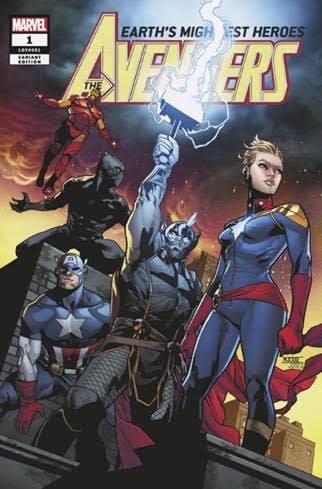 But eBay has also opened their own Avengers store, featuring memorabilia that is "rare and not available for purchase anywhere else, including collectible figures, comics, posters, and replica props."
"We are thrilled to give lifelong Avengers fans and new collectors alike access to rare and exclusive memorabilia from one of the most prominent comic book franchises of our time," said Sam Bright, Senior Director of Art & Collectibles at eBay. "We strive to create an online marketplace that connects people to their passions, offering our 170 million active buyers products that speak to whatever they may be interested in, including their favorite movies."
In addition to eliminating the middleman and having their own variant covers, eBay is also looking toward muscling in on the territory of clickbait comic book news sites. Perhaps sending a message to comic book websites reluctant to cover another press release about a #1 issue variant cover, the online giant also threatened to eliminate the middleman there as well by producing its own listicle, naming the top five most popular characters in Avengers: Infinity War.
Avengers: Infinity War – Most Popular Characters*

Spider-Man
Thor
Hulk
Iron Man
Captain America

In addition to the top five, Black Widow ranks as the most popular female character, landing the #7 slot on the list
Groot is breaking out as a star character, with total sales of Groot related items more than doubling from 2016 to 2017*.

*All data based on sold and listed items on eBay.com between January 1, 2012 – April 23, 2018
Okay, okay! We get the message! We'll publish the story! Don't hurt us!
Check out eBay's Avengers store here: https://www.ebay.com/rpp/collectibles-events/The-Avengers-Are-Back.
The Avengers #1 Mahmud Asrar variant cover will be available here for $5.99, beginning at 8AM Pacific Time on Wednesday, May 2. You can check out MyComicShop's Avengers and Marvel Comic Universe eBay collection here.