This live panel coverage at ECCC (Emerald City Comic Con) 2018 comes to us from contributor Jessica Dale.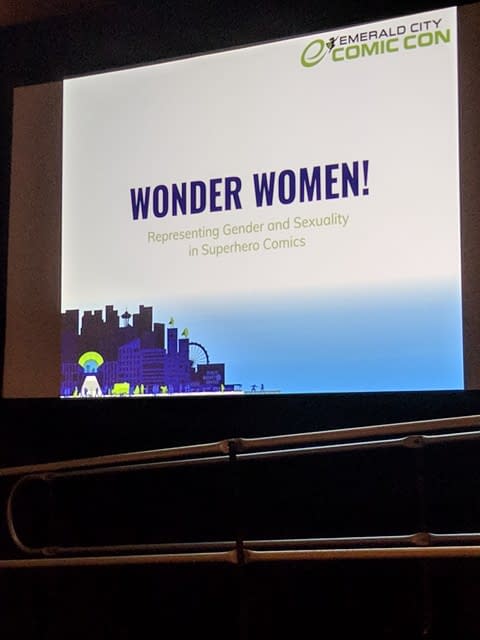 The Wonder Women! panel at this year's Emerald City Comic Con (ECCC) featured a conversation about the characters who paved the way for Wonder Woman's 1941 debut. Dr. Andrea Gilroy and Jaylee Warren led the talk about Diana's impact and the superheroes who carry on her legacy of love and empowerment.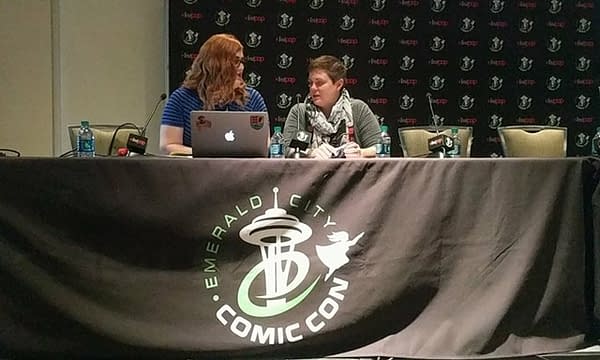 Things that were discussed at the panel:
"Wonder Woman was not the first woman superhero. The first came from the jungle adventure genre, Tarzan-esque, white jungle princesses. Sheena was the original. Phantoma was first super-powered female hero."
"Batgirl was a beard for the '60s Batman and Robin."
"Wonder Woman as a secretary of JLA because [William Moulton] Marston hated anyone else writing her and put her into that box."
"Lois Lane from the '30s was amazing and a real woman; then the Lois Lane was put into the Superman's girlfriend box. DC hyper fantasy era-Lois Lane as Betty and Veronica to Archie."
"Catwoman… always a badass, equal to Batman, also holds her own to villains such as Joker, etc."
"Marvel cinema nowadays [does a] better job than the comics at portraying women and super hero women."
"Black Cat, Catwoman, Black Widow, Scarlet Witch, Harley, Poison Ivy — sexually powerful threats."
Seattle's Emerald City Comic Con has been in operation since 2003 and continues to get bigger each consecutive year. Housed in the Washington State Convention Center since 2008, the event came under the ReedPop family of events in 2015, and began streaming mainstage events in 2017.
Enjoyed this article? Share it!