An Eerie Look At New York's Hidden Story: Thomas Alsop Vol. 1 Arrives This Week
Called, "The Best Miniseries of 2014" by USA Today, Thomas Alsop, will be released as a graphic novel from BOOM! Studios this week. Written by Brooklyn based writer and actor, Chris Miskiewicz, with art by Danish illustrator, writer, and cartoonist, Palle Schmidt, Thomas Alsop presents us with an eerie vision of the modern city we all think we know so well.
The book details the story of Thomas Alsop, The Hand of the Island – a title that's been passed down through the Alsop family since 1699, when his ancestor was charged as the supernatural protector of all of New York. Thomas's saga winds through the city's past, from witch trials, to the tragedy of 9/11, and much more. We see New York's hidden story through the eyes of its long line of arcane defenders.
Writer Chris Miskiewicz urges us to believe that everything in the book is real:
Every location, from Calvary Cemetery to the Chelsea Hotel to Liberty Island. Every historical figure, including Richard Alsop, whose 1699 gravestone I stumbled across at Calvary. The insanely strange and resonant fact of a demolished slave ship that was discovered buried beneath Ground Zero at the World Trade Center. It all really happened in one form or another.
I want to say that I've seen the cover of this book several times recently, and never knew what it was about until now. With that said, I'm incredibly intrigued by the concept. It sounds like Miskiewicz did his research and produced something that is pretty groundbreaking. I look forward to reading the graphic novel when it releases this week.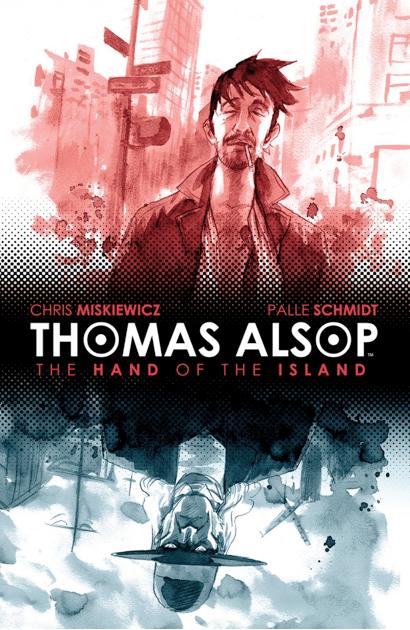 Christine Marie is a Staff Writer at Bleeding Cool, and bibliomaniac with a love for all things creative. She hopes to one day be a Superhero/Disney Princess/Novelist. You can find her on Twitter and Instagram @AWritersWay or on her blog writerchristinemarie.wordpress.com.